THE Cub Report- Version 11.21.2010, Every New Beginning Comes From Some Other Beginnings End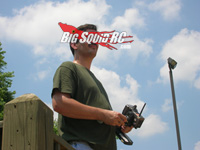 Life is tough in the newspaper and magazine industries. Actually, most industries are having it rough during our economy, but the print guys have really been suffering. Nearly every week you learn about another big name newspaper or mag calling it quits. Finally those tough times have hit us in the rc world.
I have long said that 4 mags for the rc hobby were too many. For the amount of participants we have in rc, is there really a need for four magazines? Is there enough material for them all to flourish? Having 4 mags also makes for some tough choices from marketing departments, do they spend all their cash on just one mag, or spend a little on all four?
Of those 4 rc mags, one had really stepped up their game- RC Car Magazine, a Hi-Torque publication. Bess, Waldo, and Yu were going where most rc mags wouldn't, using honesty. RC Car was saying exactly what they wanted to in product reviews, even if that resulted in losing an advertiser. That took big balls, not only from Bess and crew, but from their publisher. And not only had they stepped up their review game, but their editorials and original content were also top notch. Unfortunately Hi-Torque pulled the plug on'em, with RC Car's last issue being Feb 2011. To Bess and crew- thanks for the great work you guys did at RC Car, and can't wait to see where you guys land. Carpe diem!
On another note…
The best race series in our country was the RC Pro Series. Recently the RC Pro Series transferred hands from Carlton Eppes to one of his colleagues. Eppes was widely known as being the best race director on planet Earth. Additionally, Eppes was known for being responsive to manufactures needs and running a rock solid race program, but I knew him more for being stern, yet fair, with all his racers (regardless if they were noobs or factory pro's). Had the RC Pro Series managed to land bigger sponsors and more media coverage, I have no doubt RC Pro would have become the dominant sanctioning body in America. Here's to wishing all the best for Carlton in his future endeavors, your presence behind the wheel at the RC Pro Series will be greatly missed.
Associated shot out a PR on their way-super-dope-909-black-flat-billed hat last week. Yes, Associated dedicated an entire PR to a hat, so you just know it's gonna be THAT good. Our editor Brian is gonna look great topped off with one of those while decked out in a black Metal Mulisha shirt and uber black DC skate shoes. 🙂
Remember a couple weeks ago when I mentioned Associated landed a deal to have Makita and Kicker sponsor their rc race team? Well, you wouldn't really know it by looking at their team. I mean, the amount of signage that Makita and Kicker get on Associated shirts and race bodies is minimal at best. Does signage count if it takes a magnifying glass to see it? Anyways, did Makita only give AE one cordless drill? Did Kicker just shoot'em one pair of 4″ two ways? Or does AE need to devote more signage for their new team sponsors?
Have you seen JConcepts uber new Punisher body for the Associated T4? In 8th scale truggy perhaps they look loosely true to scale, but in 10th scale stadium truck, no way, no how- it looks like something a space alien would have designed just before OD'ing on shrooms and LSD. Can we please rename the stadium truck class to the "stadium martian" class? Thanks in advance! And I'm not bag'n on JConcepts here, I'm bag'n you, all those local racers who think it's cool to have "stadium trucks" that looks like something my dog just hacked up on my living room carpet.
With that said, it's time to wrap up another edition of THE Cub Report. Turn off the net, get off your ass, bust your rc out, hit your local track or bash spot, break loads of parts, then check out your local hobby shop.
YOUR Cub Reporter