THE Cub Report- Version 12.12.2010, It's All About The Timing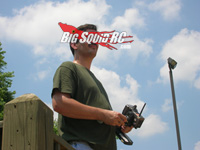 Yet another week has flown right by in our hobby, welcome back to THE Cub Report. In some areas of our country, it's blizzard conditions, in others (Hawaii anyone?) it's a perfect 80 degrees. Inside the exceedingly well lit and remarkably well appointed BigSquid offices it's always 72 degrees. We hope wherever you may be that it's perfect rc weather.
Months and months ago one of our staffers, Bill The Wrench Guy, pre-ordered one of the soon to be released Traxxas Spartan boats at his local hobby shop, The months went by, and then more went by, and the Spartan release date kept being pushed back. Finally last week we hear from Traxxas that the Spartan boat is getting close to shipping with an expected LHS date of December 16th. Yes indeed, there are many parts of the country that are not frozen over, but for Bill The Wrench Guy, that is definitely NOT the case. I must ask, so just what good is an uber new Traxxas boat going to be in Chicago during the middle of the winter? The answer- not much, unless it's being used as a static model. Traxxas isn't known for dropping the ball, but December is about the worst release date I can think of for a boat.
Also on the Traxxas tip, their new 4×4 Stampede is just now hitting hobby shop shelves. While a Pede 4×4 should be awesome fun in the snow, December isn't a very good release time for a pure basher. I'm certain all you basher guys down south are love'n your new 4×4 Pedes, but for the rest of us up North of you, 8″ of snow is the last place I want to make a run with a brand new truck. Because of this, a lot of potential buyers are going to hold off on the new Pede till the weather warms up (3-4 months from now). But by the time it turns warmer, who's not to say that another uber bash machine won't be released by HPI, AE, or Losi that will steal the 4×4 Pedes thunder (and sales)?
The two examples above, and the one I provided last week (the Losi 22), go to show that timing is very important in our hobby. They can make or break the sales numbers for a particular model. For many of us in Northern climates, we are stuck indoors several months a year where we typically have more time for our rc hobby because we are not out bbq'n, riding motorcycles, etc. Many of us Northern types spend a LOT of cash on the hobby during the winter, provided there is something that catches our fancy and works well indoors.
Unfortunately for us, it seems that sometimes the manufactures who reside in warm weather climates forget about us Northern types. It seems like they don't even realize we can NOT just grab our gear any time we want and go outside and run. It's like they don't understand that many of us only run indoors on prepared tracks October through March. It's like they don't even realize that for months at a time much of our country is covered in snow and ice. It's like they don't understand how much money they are losing by not catering some "off season" product to us.
On another note….
Nearly every year I do a "what to get your rc'er" for X-mas article. This year I decided to switch it up a bit, so I asked around the office to see what type of rc car/truck the BigSquid staffers would want for X-mas if price were no object.
Web Guy Jeff replied he wanted an ole' school Clod Buster. I can't argue with that response, as Clods are a ton of fun and have an enormous aftermarket following.
Chunky Jason is perhaps the hardest core racer on the staff, and he answered with a HPI 5B SS. The 5B SS isn't really a core racer, but it certain is a solid (and quick!) buggy that absolutely rips up grass in the back yard, open lot, or park.
Craig The Ramp Builder Guy went a tad bit more extreme with his answer, as he requested an electric Castle BL powered HPI Baja 5T. While a stock gas powered 5T tears up the grass something awful, an electric Castle powered one would absolutely annihilate it.
Bill the Wrench guy had a quick answer of HPI 5SC! It should be noted that the 5SC has been the only vehicle that could de-thrown his want of a 5T! During our bashing this summer we have beat the heck out of our 5B, and we usually have a 5T in the mix. If your dumb brave enough to go for big air, they can be a blast!
Micro Man Wes continued the trend by wanting yet another HPI 5th scaler, as he requested one of the uber new HPI 5SC's. (I think we see a trend here, LOL)
Michelle The Receptionist replied that she didn't know which rc she wanted, but requested that it be "cute" and "have a pink body on it". Umm, ok? LOL
Jim The Test Driver Guy took the longest to reply as he just couldn't make up his mind with all the cool cars/trucks on the market right now. But, in the end, he went with a new Slash 4×4 Ultimate. It would be perfect under anyone's Christmas tree.
Editor Type Brian also took a while to decide, but after nearly 10 minutes of contemplation he replied with the Traxxas Ken Block Rally Car. That is one awesome looking little car that should be a ton of fun bashing around a parking lot with.
As far as what I'd want for X-mas, well lets see… I'd start with a Traxxas Brushless E-Revo, throw in one of Hitec's Ultra Premium servos, install 6S worth of MaxAmps Lipo power, and lastly, accent the truck with a Pro Line body, PL rims, and massive PL paddle tires. Definitely not a racer, but it would just have to be loads of fun. Oh and, the rooster tails would be phenomenal!
That's it for this week, as always support your local hobby shops, tracks, and bash spots!
YOUR Cub Reporter