The Cub Report! Week 3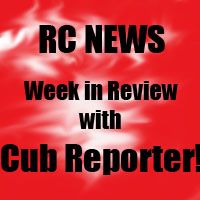 Yes, even the best opinion writer in rc can miss a deadline. After the constant hate text messages from the men in black suits at BigSquidRC, I decided it was in my best interest to get my Week 3 review in their inbox.
First, before I start ranting, BigSquidRC is breaking out the big money and making sure you, the faithful reader, has live, daily coverage from the biggest rc race on the planet next week- the Snowbird Nationals. This is a big step for BigSquidRC. Unfortunately, I drew the short straw and am being forced to spend a week in all that horrible Florida weather covering the event for you.
O.k., so last week ROAR decided to jump into the 2000's and release some Li-po rules. On one hand, it's nice to see them finally get their heads in the game, on the other, they are about 4 years late (again). People can, and will argue about the pro's and con's of the specifics of these new rules, but at least they now exist. Let's hope that when the next rage in cells come along (Li-Fe and others), they won't wait 4 extra years to make them legal. Oh and, can I kick them in the shins again about keeping races at 5 minutes?
Losi jumped the shark. No, not last week when they introduced their version of the Rustler VXL, but when Pops and Jr decided to hand over the keys to Horizon. That's not to say Losi is eating babies now days, they aren't. But they are no longer a "win races" company, they are a "make money" brand name. Everybody has to keep food on their tables, but we'd rather see innovative products instead of Traxxas clones.
Before I sign off, I'd like to answer one note I received via email.
"Dear Cub Reporter,
You sound like an #@#$#@. Can't you ever say anything positive?
Steve"
First off Steve, it takes one to know one. Secondly, I do make positive remarks, but only when they are warranted. It's no secret this hobby/sport is in a downward slide, both on the race side, and on the retail side. Perhaps a little kick in the rear will do the industry more good than the constant positive banter. I'm only critical out of love for the sport.
With that said, support your local hobby shops, buy all the bling bling your Visa can handle, and be sure to check out BigSquidRC weekly, you never know what will be said next.
From the sub-zero middle of nowhere,
Your Cub Reporter