THE Duratrax DM17.5T Sensored Brushless Motor Review
THE Duratrax DM17.5T Sensored Brushless Motor Review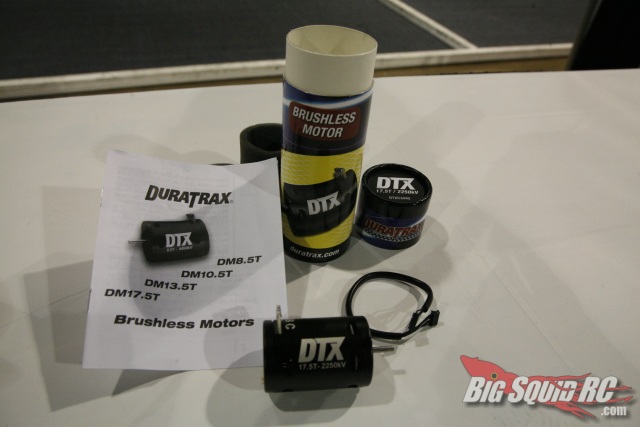 In case you haven't noticed there's a new Duratrax in town. Sure their logo is new, but that isn't all, they are committed to putting out products that can compete with anything else on the market. How do their new brushless motors stack up? Read on…

From: Duratrax
Direct Link: Duratrax Sensored Brushless Motors
Review By: Cubby
Pics By: Cubby
Speedo Specs-
Size: 540, 2.07″ x 1.41″
Sensored: Yes
Turns: 17.5
Output shaft diameter: 3.175 mm
Output shaft length: 15 mm
Weight: 6.0 oz
Kv: 2250
Max Current: 15A
Vented Can: Yes
Magnet: Neodymium
Ball Bearings: Yes
Hand Wound: Yes
Sensor Wire: Yes, shielded
Warranty: 180 days
Street Price: $70
Primary Competition: Novak, LRP, Tekin, Viper, Speed Passion
What's In The Box: The DTX motor didn't come in a box it came in a pretty sic looking tube. Inside the tube was the manual, sensor wire and motor.
Build Quality: The motor looked and felt of good quality, the sensor wire looked and worked fine.
Test Drivers: Cubby, Brian, Iron Mike, Jeff
Test Venues: RC Outlaws, Costco parking lot, cul-de-sac, backyard
Set-up Notes: Test vehicles were a Losi SCB and an Associated RC10T4. Speedos were Castle Mamba Max Pros.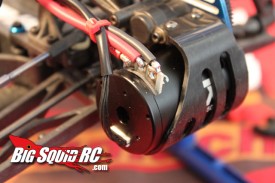 Power: I didn't have another fresh 17.5 sitting around to do a direct comparison with, so I'll do my best to describe its power output. I wasn't out to gear the motor to death, I was looking for good bashing gearing- enough power to burn the tires off, enough yank to make all the doubles, geared to have plenty of runtime, and geared with enough top end for backyard driving. That ended up being a 24/87 gearing on my T4. With that gearing the Duratrax easily burnt the rear tires off from dead stop (on dirt and pavement) and could make all the jumps all the other 2wd electrics were making at the track. No, the 17.5 will not be running circles around lower winds, but it had enough yank to be fun, and if you are a noob its powerband and overall power is enough to excite without being too fast (resulting in broken parts).
Efficiency: This isn't scientific by any means, but to give our readers a very rough idea of what they can expect for runtime here's what I did. The set-up was an Associated T4. Gearing was 24/87. Speedo was a Castle Max Pro pumping 30 degrees timing. Battery was a MaxAmps 2S 6500 Race Spec. Shoes were Pro-Line street treads (slightly smaller diameter than normal dirt tires). I then ran the Duratrax 17.5 powered T4 for 15 minutes like I stole it, driving it as hard as I could to use as much energy as possible. At the end of the 15 minutes I measured the motor temp, which turned out to be 118 F (ambient that day was 78 F), then put the MaxAmps pack back on the charger to see how much energy it would take to fully charge it again. My Hyperion 720iNet3 showed I put 2175 mah back into the pack. So in "theory" I could have driven the Duratrax 17.5 for over 45 minutes on the MaxAmps 6500 pack, that's some pretty healthy runtime.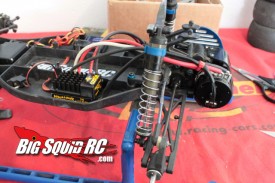 Drivability/Feel/Powerband: The motor had good snap from a dead stop, a smooth mid-range with good power, but signed off fairly early on top (pretty much the trait of every 17.5). We could hammer the throttle hard and rocket out of corners, the Duratrax 17.5 had such a smooth mid-range and was great at getting the tires to hook up. Overall, I found the motor very drivable, no spurts of power when you weren't expecting them, just a nice smooth power curve. Higher cells counts gave the motor more top end, but still left the low end and mid-range quite drivable.
Cogging: We experienced no cogging during our testing.
Brakes: The Duratrax motor provided plenty of stopping power. Not crazy "forward flip your truck" power, just nice linear braking power with more than enough to lock the tires (even on pavement).
Broken Parts: So here's the scoop (yes, I am writing this with an evil grin on my face)… the Duratrax motor was a tank. How can I say this? Because… I noticed on the Duratrax website they mentioned running their motors on 2-3S. Seeing as how I didn't have any good 3S pack sitting around the office I grabbed something even better, a nearly new MaxAmps 14.8 volt 4S 6500 Race Spec pack. The majority of time I was driving the Duratrax 17.5 it was on this 4S pack (btw, I do not recommend you use an out of spec cell count, we do it here at BSRC so you don't have to). So… the Duratrax motor took big hit g-forces from various crashes and hucks off my roof, it took being used on much higher voltage than ever intended, and it took a 10 second free rev on 4S (something you are neverrrr supposed to do) and did not break. Motors in general aren't known for living after abuse, but I tried my best to destroy the Duratrax 17.5 (I thought I had it for sure when I popped in the 4S, but it still lived!) and it's as good today as when we got it.
Misc Notes: The can on the Duratrax motor is vented. Venting is good for keeping a motor cool but is bad if you are trying to keep dirt out. We put stickers (BSRC of course) over the vents holes when we ran on dirt, I recommend you do the same.
---
As with all of our stuff, if you see us at a bash, stop by and check out the vehicles we have with us. We may let you take a test drive, and at the very least get you some stickers!
SUMMARY
Time To Bash – 8.0/10 -Takes about 10 minutes to install.
Car Show Rating – 9.09/10 – The "murdered out" look is all the rage right now, we liked it.
Bash-A-Bility – 10/10 -It earned my seal of approval the hard way and lived to talk about it. It's a tank.
Fun Factor – 8.0/10 – Snappy low end power with incredibly long run times equals lots of smiles.
Power- 6.0/10 -For shear power output a 17.5 isn't going to blow any tires off, thankfully Duratrax has much lower winds if you are looking for that. 🙂
Value- 8.0/10 – At $30 less than some of its competition we found the Duratrax a good value.
Big Squid Rating – 8.3/10 – Tentacles.. Looking for an affordable sensored motor? Looking for a motor that doesn't blow up your tranny every time you squeeze the trigger? Looking for a motor that can take some abuse? If so the Duratrax DM17.5T is a great choice.