The Jigs Up – Soldering Jig Review
The Jigs Up – Soldering Jig Review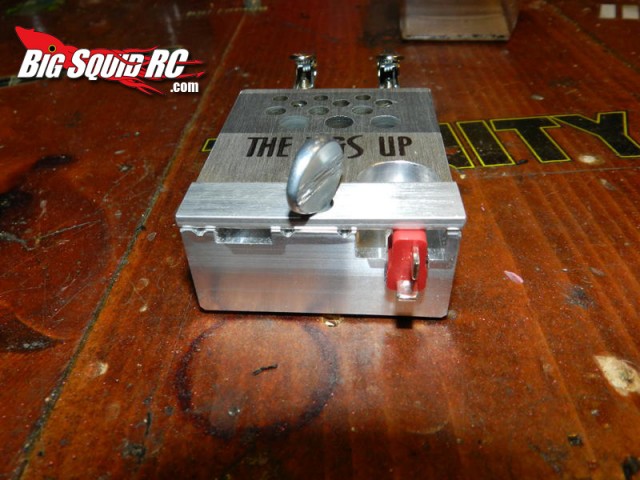 Being the wrench for Big Squid, I am always on the lookout for ways to make my job easier. Getting trucks ready for testing and bashing takes up a good chuck of my time. So, when I see something that can cut that time down, I grab it! Lets see if this thing can help…

From: The Jigs Up
Review By: Wrench (aka Bill)
Pics By: Wrench (aka Bill)
What's in the box: Soldering Jig and Alligator connectors.
While shooting the breeze at my local hobby shop, I seen a tool hanging in a isle. Ever other soldering jig I have seen was a pair of alligator clips on a adjustable base. This one is a solid chunk of aluminum. Talking to the owner he said that he has been using one in the shop for a while now. I have been using my helping hands for years now. Could this really be better? Well, after using the tool for numerous soldering jobs, I have to say yes.
Features: Many options for holding all kinds of connection come in handy. There are several sizes of holders for bullet connectors, a clamping side for holding every kind of battery connector and servo plug, and a pair of alligator clips for holding wires.
Highs: The first jig that I have seen geared directly at our hobby. The weight of the jig keeps it from moving around. Best of all is the size. It is small enough to fit in any pit box or tool box.
Lows: The down side is the price. $25 might seem a little steep for something like this. But, when you need it and you don't have it. That makes it worth every penny.
---
As with all of our stuff, if you see us at a bash, stop by and check out the vehicles we have with us. We may let you take a test drive, and at the very least get you some stickers!
SUMMARY
Time To Bash- 10/10 -10 Take it out of the box and put a thumb screw in.
Work-a-Bility – 10/10 -It does everything a pair of helping hand does, and then some.
Car Show Rating – 8/10 – It is a little different looking then other tools of its kind.
Value – 8/10 -The Jigs Up is not that much more than a helping hands jig.
Bash-A-Bility – 9.0/10 It's a block of aluminum. The worst you could do is break the thumb screw. –
Big Squid Rating – 9/10 – Tentacles.. It's easy to use, small enough to pack with you, and has been good for everything I have needed it to do.