The New Traxxas T-maxx 3.3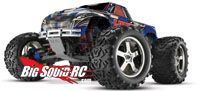 Yesterday Cubby mentioned the new Traxxas T-Maxx 3.3, so I figured I should get some pictures and information posted. The new T-Maxx 3.3 has 6.3 inch tall tires and 30mm (1 inch) longer wheelbase. The new tuned aluminum Resonator pipe adds 16% more power for a top speed of around 45mph.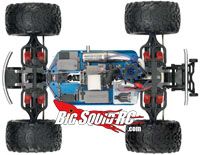 It has a updated skid plate, 125 oz digital high-torque steering servo, and a Revo Spec forward only two-speed transmission.
At the moment, I am a bit on the fence about the new T-Maxx. Sure Traxxas always puts out quality trucks, and I am sure this version will be no exception, but the tiny tweaks sort of bug me. If you have ever owned a T-Maxx, or know someone who does, usually within 2 weeks of owning one, the first thing you do is add an extended chassis, bigger tires, a tuned pipe, remove the reverse and go forward only, and finally, usually put in a .21 engine! While, yes they are giving us something out of the box that most people end up doing, people have been doing these same steps for 5+ years! Yea, yea.. if it's not broke don't fix it.. I get it.. but since 1999 people have been asking for a T-Maxx with a .21. Oh well, maybe next year.
The full press release will be in the NEW Product Forum.