THE Retired Report- Wanna Bash On Grandma's Face?!?!?
So I'm cruising YouTube, blowing off another day, just like any other, and I come across the crazy video below. In the video, it shows an rc truck driving around a house. You see it come down some wood stairs without scratching them. You also see the truck drive over a precious piano. You then see it drive over "Dad's" computer. Then, whoever was driving the thing, decides it would be a good idea to nonchalantly Send-It on Grandma's face, LOL.
Ummmm, I'm not kidding here, the commercial shows a kid going full-send on Grandma. We've done some pretty extreme rc maneuvers here at BigSquidRC, but never have we thought, "Hey Jeremy, what's your Grandma up to this Saturday? We plan on testing the new 12S Kraton and wanna bash ON your Granny.".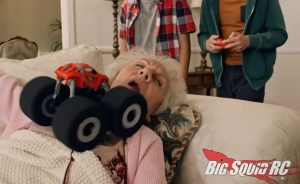 OK folks, I am done teasing here, LOL. When I saw the Air Hog Stunt Shot (around $29) video I was freak'n impressed. RC cars are SUPER hot right now, and the folks at Air Hogs took a look at the single biggest problem with driving an rc car indoors- damage to the house, and basically fixed it. The Stunt Shot was designed to be uber-soft (it is covered in a soft foam), thus allowing a young rc enthusiast to drive indoors, without breaking anything, or anyone!
While the Stunt Shot isn't exactly "hobby grade", it was one heck of a great idea, so props to the crew over at Air Hogs. The more people that get casually into the toy side of rc, the more that will eventually end up on the hobby grade side.
Back to retirement I go, until I reemerge again, why not click on this Random BSRC Link?