The Slash Report 4 – Goin' Racing!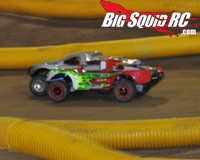 The big draw to the Traxxas Slash is the racing. Where else can we all race a CORR Pro2 trucks fender-to-fender for about $300 (truck $200, batteries & charger $100)? Its good clean fun as long as you don't take the class too seriously.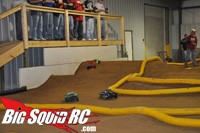 One of the reasons that I say this is because it gets a little rough during the races. With the Slash being so cheap to get in to, there are racers from all levels in the class. There are novices with this being there first class, and top level racers using this class as a stress reliever. At my local track there are two 2008 IFMAR Fuel Buggy World's racers that run the class. I've also seen beginners show up and open their kits and start racing that night!
Full Fender Racing = Full Contact! With these trucks being full fender, drivers tend to get a little aggressive… ok, they will slam you like a 350 pound line-man would! On top of that the tires have so little traction that a good hit will send you spinning down the straight-a-way. Don't think that if you're in the lead that they are not going to hit you also.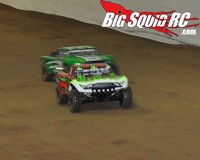 The last issue I have about the Slash box stock racing is that mass produced gear is not all made the same. These motors and esc's are mass produced on huge a scale by machines. I've heard of box stock slashes doing wheel stands on a 2s lipo at 7.4 volts. Some Slashes are so slow that you have to run a 7-cell nimh at 8.4 volts to just keep up. I really believe that the class needs a better controller motor, but that's just adding more money.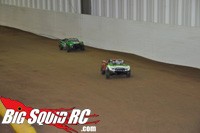 So get your Slash, race it, and just have fun!!!! In the next report I'll be going over so tips and tricks to make your Slash a little faster in both speed and lap times. So if you get slammed just laugh about it and just remember pay back is a …..
Jason Annis