The Slash Report – Intro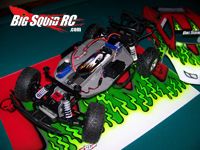 The Traxxas Slash is by far the biggest hit in the RC industry right now. Companies, tracks, racing organizations, and the media are all scrambling to get parts, hop-ups, classes, and articles out as fast as possible involving the Slash and its nitro brother the Slayer. (Can't leave him out…. 😉
The Slash is nothing really that new. The idea for RC CORR tucks have been around for years. Kyosho had a truck based on the first generation Inferno. Tamiya had the Pre-runner series of trucks based off of their TA-O2 touring car chassis. Team Losi sold a body conversion for the XX-4 four wheel drive off-road buggy. Team Associated SC8 is the one of the newest additions to the field, the idea is not new. So why did the Slash explode onto the market and the others didn't?
The Kyosho, Tamiya, Team Losi, and Team Associated CORR trucks all have one thing in common that kept them from growing a new class like the Slash did. Price! They were either a kit, a conversion, or a nitro. It takes a good deal of money to get one. The Slash is only $200 RTR. And with every track and organization requiring them to run almost box stock (Servo, motor, ESC, tires, chassis, ect.) its rather easy to get int one. Figure $300 for a Slash, two cheap batteries, and a charger and you are Ready – To – Race or just blast it around the house.
The Slash Report will cover everything about the Slash. I'll cover the bashing and racing side of the Slash, and also everything in between. So if anybody has any ideas or questions; please shoot us an e-mail. Till the next report, keep it rolling!
Jason