The Slash Report – Shocks Part 1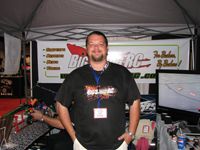 The Slash is for the most part an over built truck. It's based off of the Rustler and Stampede trucks so parts are usually easy to get a hold of. There are a few areas that could use a little bit of tweaking though. The main weak spots to look at are the shock caps, rear axle carriers, front C-hubs, steering knuckles, and the spur gear. Luckily there are some cheap and easy mods to help these areas and in this report I'm going cover number one problem; the shocks.
On the shocks caps you have a couple options. It all breaks down to your budget and track rules. If money and rules are not a problem then go with Traxxas' Big Bore aluminum shock kit. They are very strong and SUPER smooth. The problem is that most tracks are not allowing full aluminum shocks, but they are allowing the aluminum shock caps. These really beef up the shocks and work as expected, but they are really, really tight. They are so tight that its a little difficult to bleed the shocks the right way. The last option is new shock mounts. The stock shoulder bolts allow side to side pivoting, but zero front to back movement. The shock towers are so soft that they do a lot of flexing. This puts the caps in a bind and pops them right of the bodies. To help this problem I run a button head screw and a short piece of fuel tubing. This allows the shocks to pivot front to back and relives the stress. I run this set-up, because it helps keeping the shocks together for spec racing and I can still change shock oil easily. I don't think they will be strong enough for a brushless Slash though.
The shocks are the very first thing that needs to be looked at. They are good shocks; they're just not good enough for hardcore racers or bashers. When you're going fast you are going to crash. In the next Slash Report I'll cover the rest of the points that brought up and how best to fix them. Till next time.
Jason Annis