THE Speed Passion RS2 1/10th Off Road Stadium Truck Review
Speed Passion RS2 Review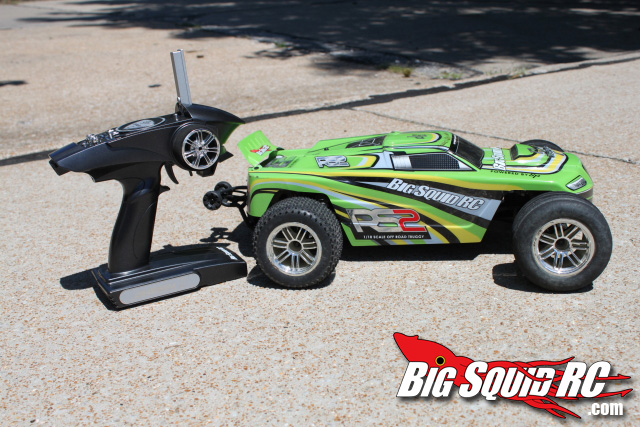 Just how much do you think a ready-to-run brushless 10th scale truck that has a 2.4 GHz radio should cost? Well Speed Passion thinks it should be $159, a LOT less than many of the other manufactures out there. The Traxxas Rustler VXL goes for around $320, and the Associated brushless T4.1 costs around $250. Is the Speed Passion a pile, or does it set the new standard? Well here's how it stacks up…

From: Speed Passion
Direct Link: Speed Passion RS2
Specs-
Age Rating- 14 years+
Scale- 1/10th
Colors- Green, Yellow, Blue
Kit or RTR- RTR
Length- 500mm
Width- 320mm
Wheelbase- 300mm
Driveshafts- Sliders with capture rings
Motor- Speed Passion Non-Sensored Brushless, 9.5 Turn, 4000 kv
Speedo- Speed Passion Cirtrix Inspire V2.0
Radio- Speed Passion Carrera 2, 2.4 GHz
Shocks- Plastic Bodies, Oil Filled
Slipper Clutch- Included
Rims- Chrome Spokes, Hex mount
Tires- Speed Passion, ribs on front, knobbies on rear
Bearings- Full set, rubber sealed
Waterproof- "Waterproof Design" is posted for transmitter, "Water resistant" is listed for the speedo.
Weight- 4 lbs 3.2 oz (measured by BSRC with 2S Lipo installed)
Warranty- 90 days on the speedo
Street Price- $159 (but we saw them on sale at RCX for $99)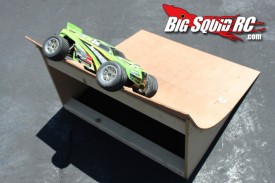 Primary Competition– Traxxas Rustler VXL, Associated T4.1 Brushless RTR, Losi Speed-T RTR
What's In The Box– You will need to purchase 8 AA batteries for transmitter, a 6 cell Ni-mh or 2S Lipo battery for the truck, and a charger to get the RS2 fully up and running.
Build Quality– Average. We saw multiple bolts that were over tightened and stripped out. We noticed excess drag on the front wheels due to over-tightening, and our front hubs did not rotate freely. But… the truck was drivable out of the box. I do recommend you check the pinion/spur mesh and tightening down the motor screws before you take that first drive.
Test Drivers– Brian, Tim, Chris, Cubby
Test Venues– The Odium Convention Center, St Louis Dirtburners, neighborhood cul-de-sac.
Set-up Notes– Our RS2 was tested bone stock with the exception of adding Traxxas plugs. We used a MaxAmps 2S 4200 mah Lipo during all our testing.
Turning– The Speed Passion RS2 turned well whenever its front tires were firmly planted on the ground. By this I mean it turned well when you are off the gas and all the weight was shifted forward, but as soon as you tagged the throttle the front end liked to shoot skyward. As everyone knows you can't turn if your tires are not on the ground. The oil that comes in the RS2 shocks is too light resulting in rapid weight shifts, heavier oil will help keep the front tires on the ground, not only when coming out of corners but also over bumpy terrain. So no, the RS2 isn't in the same league in the corners as an Associated T4.1, but I'd rate it higher than a Traxxas Rustler. Also of note- I could not get the RS2 to traction roll on pavement. Overall the RS2 feels low slung in the twisties. The RS2 seemed to lack side-bite in the rear, that might have simply been the tires, or perhaps it was the way the chassis was set up to handle. The front end had decent mechanical grip and comes set-up with good ackerman. The RS2 carries good speed in medium to large corners on high grip surfaces. Tight 180s are not the RS2s forte as its rear ends tends to snap out instead slide controllably.
Jumping– Some of our test crew didn't like how the RS2 jumped, blaming sketchy/bouncy take offs and rock hard landings and reporting less than optimal control in the air. On the other hand I thought it jumped fine for its price point. To me it boils down to what you compare the RS2 to. If you compare it to a Losi XXX-T then no, its not in the same league, but if you compare it to a Rustler or an Electrix Circuit I thought it jumped just as well, if not better. To boil down the RS2s character in the air- I'll say that it tends to jump slightly nose high, and it lands really hard. And no, the RS2 doesn't like crooked landings, so make sure you are lined up straight on those jump faces.
Bumps/Whoops– With stock suspension settings the RS2 does a lot of bouncing in the rough. The RS2 is low slung and also quite bouncy, so… when you enter a rough section you aren't quite sure which way it's going to be pointed coming out. There isn't a lot of travel to blow through, and what's there is too soft, so the RS2 bottoms out quite frequently in the chop (and heavily on jump landings). But how would it stack up against a Rustler or Circuit in the rough? Some of our testers thought it wasn't as good, my vote goes for slightly better, but not in the same league as a T4.1 or XXX-T.
Suspension– The stock spring rates seem in the ballpark but the included oil is too light. The lack of compression and rebound damping inhibit the handling of the RS2 all around. Luckily shock oil is cheap and 70 weight Associated hits the spot. After a switch to the heavier oil the RS2 instantly become a much better handling machine.
Tires– Not bad. No, the included tires are not super soft (like a race tire), but nor do you want them that way on a bash machine. The front ribs work reasonably well on dirt and better than expected on pavement. The rear pins give very good traction on pavement, but lack side-bite on the dirt. We did notice higher than anticipated wear, but… when you are packing the power the RS2 has, there just isn't a pin style tire that is going to live for very long.
Power– You'd expect a budget priced brushless truck to be short on power, but not the Speed Passion RS2, it has plenty. The included brushless system has great snap off the bottom, a smooth yet powerful mid-range and good wind on top. With the bone stock set-up we were able to make every jump on the track (that the local mod 10th scale racers were doing) with no problems. Every time you nail the throttle from a dead stop on pavement the included wheelie bar gets pinned to the ground and 20 yard long wheelies are not uncommon. I didn't shoot the RS2 with a radar gun, but the truck has more than enough top speed to get you into trouble. The Speed Passion speedo in a non-sensored unit, but we experienced no "cogging" issues, and it felt very smooth throughout the rpm range.
Radio– Ok, we gotta talk here. The included Speed Passion controller was quite polarizing. Some people loved how it looked (I did!), while others absolutely couldn't stand it. Seriously, I absolutely loved toting it around, it's the most fun I've ever had with a transmitter, but then I'm a huge Trek fan and it reminded me of a Romulan disruptor. On the operation side of things… I have pulled the trigger on three different Speed Passion Carrera 2 transmitters in the last 4 days, 2 worked perfectly, but the unit included with our test RS2 has a terrible click/notch where neutral should be. This notch in the trigger throw made our RS2 very difficult to drive properly. We experienced no glitching with our radio system and range was very good. Oh and… it features a flashlight on the front of it. No, I'm not kidding. And… you turn it on and off by flipping the antenna up and down. No, I'm not kidding. The Carrera 2 is certainly different, and quite frankly, even though ours wasn't operating properly, I never thought a transmitter could actually be fun.
Broken Parts– Zero. We only spent two days bashing the RS2 but I hucked off the second story of my house not once, not twice, not three times, but four times, with absolutely no broken parts. We also had multiple high speed crashes on pavement, as well as some gnarly hits on an 8th scale buggy track, still nothing broken.
Issues– Ok, so we didn't break anything, but we did have some issues. I've already mentioned that our transmitter had a bad trigger. The turnbuckles liked to pop off on our RS2, not really a big deal as they pop right back on, but still a pain. Our speedo had reverse, sometimes. We'd start a run and the truck would have reverse, then half way through a run reverse would be gone, then it would mysteriously reappear before the run was over. The stock rear wing looks neat but is made from very lightweight lexan and got mangled on our first run. The stock motor screws are too short, this results in a motor that likes to slide around changing the gear mesh, and they are easily stripped out of the can. We had a wire from the on/off switch come off the speedo (we had to solder it back on). The speedo is poorly mounted causing it to come loose (creating the issue with the speedo wire). Lastly, the rear tires on our RS2 were extremely out of balance, and the more we drove it the worse they got.
Best Mod Under $5– Easy, 70 weight Associated shock oil. Install it into all four shocks and instantly enjoy a much better handling truck.
Best Mod Over $5– Also easy, new rod ends and ball studs, ones that don't pop off all the time.
Misc Notes–
Motor temps with the included gearing were very reasonable. The average ambient temp during our test period was close to 95 degrees F, yet the motor on our RS2 stayed well within spec.
The included body clips are horrible, buy some Losi and use them instead, you will thank me for it.
Did you know you can buy the speedo/motor combo that comes in the RS5 for around $55? We've had good luck with ours thus far.
The RS2 comes with some crazy battery/speedo connectors, I cut them off at first sight and installed Traxxas.
Why in the world does the RS2 have shock mounts on both sides of its A-arms? Ok, I understand why it would, but it shouldn't. I removed ours with a Dremel.
The front hubs are also fully reversible. They look quite odd but didn't create any issues.
The lexan body is made out of exceptionally thin material. We didn't have any issues with ours during our short testing period, but I wonder how much longer it can last.
The included manual is quite good, kudos to Speed Passion on that one. The manual includes a lot of info, and not just on the truck but also on the speedo and transmitter.
All four of the shocks were properly filled and did not leak a drop during the test period.
So what about parts availability? The Speed Passion website seems to be well stocked, your local hobby shop, most likely not so much.
The RS2 has lots of tuning adjustments on the chassis, there are multiple mounting options for the shocks and camber links.
Run on pavement? Keep the wheelie bar. Run on dirt? Remove it because it only gets in the way.
The servo saver came a bit on the loose side, but not so loose as to effect high speed cornering. Our slipper was adjusted far too tight out of the box.
As with all of our stuff, if you see us at a bash, stop by and check out the vehicles we have with us. We may let you take a test drive, and at the very least get you some stickers!
SUMMARY
Time To Bash – 8.0/10 -Calibrate the speedo, charge up a battery, install some AA's and you are dialed.
Workability – 8.0/10 – It's easy to work on the RS2, but why are there Phillips head screws everywhere?
Car Show Rating – 7.0/10 – Everyone liked the bling-bling chrome rims, but the office was divided on whether they liked the looks of the futuristic body.
Bash-A-Bility – 8.0/10 – We didn't break anything, so why did the RS2 only score an 8? Because the tie rods pop off too easy and we had other small issues that should not have kept us off the track.
Fun Factor – 9.0/10 – The RS2 loves to pop wheelies, it loves to jump, it loves to blast down the street at Warp 2, and… it's just plain fun walking around with the Romulan inspired transmitter.
Handling – 8.0/10 – A capable jumper, fast enough through the corners, the RS2 chassis does a respectable job.
Power- 9.0/10 – Like lots of power? The RS2 rips hard.
Value- 9.0/10 – The RS2 is not perfect, but I feel it's the best "bang for the buck" on the market. The Speed Passion RS2 performs as well (or better) than some trucks costing twice as much.
Big Squid Rating – 8.3/10 – Tentacles.. The Speed Passion RS2 doesn't break, goes fast (planting a huge smile on your face as it bounces off the wheelie bar), and it does it at an incredibly low price point. Hello world, Speed Passion has a hit on their hands! There are a lot of choices out there when it comes to a good bashing truck, but none of them can do what the RS2 can at such an affordable price.