The Week In RC Version 09.07.08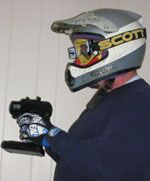 This week yielded entry number three into the hot new "CORR" truck genre as HPI introduced their hot new truck, the Baja 5T. Obviously, this is based off their incredible 5th scale gas Baja buggy chassis, but comes in full "CORR" off road truck attire. Unfortunately, the truck just misses the mark on looks, as the body is too narrow, and the tires look "almost" like they should. HPI has long been known to have the most realistic cars on the market, strange how they shouldn't be spot on with the 5T. A big part of the reason the "CORR" type trucks are so popular is due to their realism. If you miss the mark on looks in this category, you'll miss your sales target goals as well.
For what the 5T lacks in authenticity, it should more than make up for in fun factor. It's daddy, the Baja 5B buggy, is easily the most fun rc car ever produced. Big statement I know, but if you've ever gotten the chance to pinch throttle on one, you know exactly why I would make such a bold statement. The big daddy Baja buggy handles more realistically than any other rc car (ever!), is very reliable, and it's gas engine is a huge plus. Oh yes, that wonderful lil' gas engine supplies insane run times, and zero tuning hassles like a typical nitro engine would. If you are truly core about "CORR" racing, you'll come closer to the real thing driving a 5T than anything else that is offered, or will probably ever be offered. Now, the Baja buggy or the 5T will not be the biggest seller on the market due to it's one grand price point, but all that big fun does have to come at some sort of price.
Speaking of "CORR" trucks, the Traxxas Slash phenomenon is STILL amazing industry insiders- from other manufactures, to distributors, to LHS owners. Some are even reporting that sales of the Slash are even hotter than those of the original T-Maxx, once thought to be impossible to surpass! The guys sitting behind the big fancy tables at Traxxas have to be given props for finding the perfect mesh of looks, drivability, reliability, and perhaps most importantly, price point. If you haven't bought one yet, I'm not sure what you are waiting for, but go ahead and jump on this bus, as it's an affordable, and fun ride.
Some sort of rc "crawling" nats went down last week in Utah. The only guy I recognized in the top five was Austin Dunn, who's an incredibly smooth driver, and has probably the hottest girlfriend I've ever seen at an rc event. I've gotten with several people in the industry, trying to convince them to lend BigSquidRC a hand and do event coverage from big crawling events, but to no avail. So if you are one of the guys traveling the crawling circuit (either as a vendor, promoter, competitor, or whatever), and can write better than the average 2kd grader, hit up our execute editor, Brian at BigSquidRC.com and offer your services as a contributor. Writing up some event reports will not only get your sponsors/company more exposure, but BigSquidRC actually has a large crawling following, so you'll actually have people foaming at the mouth to read your reports. Ditto's for any traveling regular on the rc drag circuit.
That's it for this week rc fans. Check your BigSquidRC daily, support your LHS and local tracks, and get off your computer and go pinch some throttle.
Cubby