The Week in Review – Version 03.02.08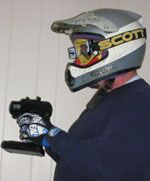 As I sit here watching "Giant Squid: Caught on Camera" on the Discovery Hi-Def channel, I can't help but to reflect on just how far BigSquidRC has come in the last 12 months. This site has come from a little known basher site, to one that now gets more hits than most of the mainstream rc magazines sites get. That's a huge accomplishment, and a statement to the fact that the paper based rags are in a for a butt kick'n by internet only news sites. Thankfully, BigSquidRC is one of the leaders in providing internet only rc news, reviews, and other information. So thank you readers and contributors for helping push BigSquidRC closer to the top every day!
Enough tooting of the horn. The show must go on.
One news item you won't be seeing in the paper rags has to do with something I touched on last week, rc's era of litigation. Early in 2007, several rc companies were sued by private individuals over labeling their products as "Made In the USA". Novak, Horizon/Losi/Spektrum, Castle Creations, and Thunder Power went under the legal microscope in the state of California. To boil it all down- in California, to legally promote your products as "Made in the USA" not only must they be made here, but every single part in your product must come from the USA as well. In todays world, it is impossible to find every single part you would need for a speed controller from an American manufacture, making it impossible to meet California's criteria for the "Made in USA" logo. So no matter if 100% of the actual work to design, assemble, and distribute the product happened right here in the US of A, a 99.9% American product could never legally wear the "Made in the USA" logo in the state of California.
It appears that all four companies have reached out of court settlements. What this means to the Joe Blow American rc driver is two things. First being that money hungry lawyers now smell blood in our industry, and we can expect even more litigation. Secondly, the more lawsuits that are filed, regardless of win or loss, the more the prices on rc products are going to go up. Companies that lose or settle out will be forced to raise prices to keep their doors open, and even companies never sued will start taking greater measures to limit losses in such case. Those preventative measures will raise costs of operation, and thus trickle down to higher prices at your local hobby shop.
Now, to take a quick look at some of the products and news released this week.
HPI announced their off road series this week. Yet another week where HPI manages to make it back into the news. It looks like an awesome idea on club racing. The rules are pretty simple- you have to drive an HPI or Hotbodies platform. Wouldn't it be neat to race where everyone is essentially running the same vehicles? Imagine how much tuning info you could gain in just one race weekend!
Also on the HPI front, HotBodies has shot out the press info on their new 2wd dirt off-road competition buggy. This really is a landmark release. I mean really, who would have ever thought HPI would have sold a competitive 2wd buggy? Well it's here, so now the buying public has more choices in that class than they have had in years. And the biggest design feature of the new buggy? An aluminum chassis! Awww, takes me back to the good old days when the original RC10 came out.
Isn't it interesting that both Hotbodies and MRC/Academy have both released new 2wd buggies? Yet another sign that the manufactures are gearing up for the big switch from nitro back to electric. Can anyone say "B5 on the way"??
Traxxas announced their "Platinum" edition Revo. I guess that's fine and dandy, but the buying public would much rather have seen the brushless/li-po powered Revo. True, the Revo in any form is arguably the single best engineered rc vehicle of all time, and also one of the toughest. But let's get on with the electric revolution already.
Speaking of the electric side, Schumacher USA shot out the press release for the new 3250 mah CORE li-po pack they are distributing here in the USA. Looks like a fine pack, but a bit shy on capacity. Schu has had amazing success with their new Speed Passion brushless line-up, and deservedly so. Let's see if their li-po's take off with the same intensity.
That's all for this week rc fans. Support your local hobby shops, support your local tracks, and be sure and get your daily dose of BigSquidRC!
Cub