The Week that Was- 03.09.08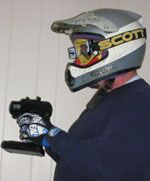 Shall I jump right into the good stuff here? Of course!
Biggest disappointment of the week? Easily has to go to Kyosho after finding out that their "AKA Brand- World Class Products by World Champions" isn't going to be some esoteric line-up of cars. Instead, AKA's first release is 8th scale dirt tires. Yes, 8th scale dirt is the single hottest class in racing. But come on! What the buying public really wants from AKA are the most high-tech, out-of-the-box thinking kits on the planet. While that still may happen, at this point, all roads to AKA just lead to hop-up products. What a waste of talent.
Biggest legal news of the week? Traxxas putting out a statement not to use Li-po batteries in their new E-maxx. For sure, the new E-maxx can pull a lot of current, and will be a hit in the marketplace. It's simply too bad to see the lawyers step in and issue Li-po warnings to keep their rear ends covered from being sued. Expect much more of this in each coming week.
On another note-
"A factory encased hard shell pack is mandated for race durability reasons that stem from the vulnerability of Lipo cells to physical damage. Any physical distortion, denting or puncture to the cells will cause either an immediate or long term safety risk. A hard cased pack reduces this risk significantly by protecting the cells from crash damage, battery ejection, and general wear and tear at the track."
Like usual, ROAR is running half a decade behind technology, and is the primary reason the racing side of our hobby continues to decline. After reading their entire text for "Li-po" safety, it's very clear they are not as concerned about safety as they are to helping someone in China sell ABS plastic cases. Perhaps they don't even know what real safety is. A123's Lithium based cells are far superior to any other rc specific Lithium pack on the market for safety, yet A123's are not legal, and can not be legal with ROAR's current guidelines.
That's it for this week gents. Race hard, crash hard, support your LHS and local
track, and be sure to check BigSquidRC for your daily dose of rc news!
Cub-Reporter