The Week That Was 03.22.08 (better late than never edition!)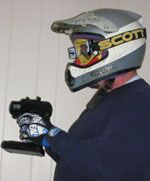 Not much news this week. The biggest news was that Trinity is releasing a new brushed stock motor- it seems they didn't get the memo that nobody gives a crap about brushed motors anymore. At this point, putting out a new brushed motor is like coming out with a new set of horse shoes instead of tires.
Seems my paychecks will not arrive if I don't write about something, so I'm going to give RC Pro Series the enormous props they deserve.
If you are anything like I am and can remember the early days of this sport, electric dominated. Once a year some goof ball would show up with a nitro car at the track, and everyone would stand around watching him try to keep the dern thing running, and soak up that unforgettable smell from the fuel.
Jump ahead to the late 90's, when racers at their incredibly rough and bombed-out dirt tracks, discovered they could put in faster laps times with low-tech 8th scale gas buggies than they could with the latest generation of electrics. Then Traxxas released the historic T-Maxx, cementing a decade of dominance to nitro.
Carlton Eppes, head of the RC Pro Series, has now made it legal for electric and nitro's to compete Head to Head in two classes this year- Monster Truck and 10th Scale Stadium Truck. Eppes is certainly deserving of the largest of kudos for doing this.
Why?
Simply because in rc racing, there are just too many classes. If you are an outsider to the sport, you would only care about who is the single best rc racer, not who won the 12th-scale/intermediate/power-puff/carpet/full-moon nationals. The easiest way for rc racing to hit the mainstream is to pull in large outside sponsors. By this I mean, instead of Associated, Trinity, and Kyosho being the primary sponsors of large racing events or teams, having Monster Energy Drinks, Red Bull, Etnies, DC Shoes, or Pepsi cutting the checks instead.
These larger outside sponsors have infinitely more monetary resources than Associated/Trinity/Kyosho do, therefore, big rc races/racers can be much better funded and advertised. Also, the Monsters/Red Bulls/DC Shoes of the world have much greater pull with mainstream magazines and television. If Monster Energy decided to jump into the rc sport, they would surely bring a television deal with them-providing more exposure than our sport has ever known, the single fastest ticket to mainstream America acceptance.
But, Monster Energy isn't going to jump into a sport that has 50 different "national champions" every year. Also, between all these different national champions, the carpet guys rarely race against the dirt guys, and the nitro guys rarely race the electric guys. The very elite racers rarely get to race against each other (if you don't believe me, when was the last time you saw Barry Baker vs Jared Tebo on a track?) To take rc racing to the next level, there has to be one, and I mean just ONE, national champion. This, large outside sponsors can relate to, and would be
much more willing to fund.
What Carlton Eppes has done by allowing electric vs nitro is to get one step closer to a unified national championship. One step closer to the next level where this sport deserves to be.
RC Pro Series also has stepped up to the plate to decide the single most asked internet message board board questions, "what's faster, gas or electric?". That in itself is deserving of the highest award the rc industry has to give. Carlton Eppes has my vote for "RC Man Of The Year 2008".
Remember, support your local hobby shops! Support your local tracks, and hit a RC Pro Series race to see what is faster, nitro or electric!
Cub