The Week that was 04.06.08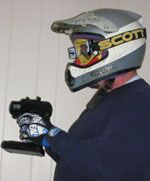 Brian, the head cheese and uber editor of BigSquidRC.com suspended me last week. I never thought he would have been personally offended at what I had last turned in, but I guess he wasn't impressed with my last Cub Report that contained more curse words than a typical rap song. This week, I'll try my very best to keep the spicy language to a bare minimum.
The biggest news of the last two weeks? Traxxas!! The very latest rendition of their top selling T-Maxx is on the way to your dealer's shelves. The latest, dubbed the "New T-Maxx 3.3" is the largest T-Maxx yet- featuring larger tires and a longer wheelbase. If you are a typical consumer, you are probably stoked to see the new rig. If you are an LHS, you scratch your head and wonder how you are going to sell off the last two versions, and think about how mad you are that you'll now have to stock even more parts that will be outdated in 6 months. Literally, the very minute Traxxas unveils a new T-Maxx, selling the older versions is like selling the plague. More dead stock, yippee!
Horizon/Losi kept up their quest for world domination releasing a slew of new items. It doesn't matter if you drive their small, ill-handling Micro-T, or their Losi 8 series, new gear was all around. The highlight of the Horizon releases is the new Losi 10th Scale Desert Truck. Now, this truck fits in absolutely zero niches. It's a class of it's own, but was born off the XXX-T chassis. It seems this truck was released simply to put out a new truck, as new sells in this hobby market. (remind anyone of their 20 different versions of the Mini-T and Mini-LST?) Most consumers have already owned 2 XXX's, and 4 XXX-T's, so for Horizon to get any more of their money they simply had to put out the cheapest "new" design they could. (Even if it comes with one of the slowest motors ever made.)

Horizon/Losi's second largest release of the week was their 10th scale brushless speedo's and motors. Horizon must really not give a damn about the Losi name, taking a well known chassis manufactures name and jumping into the BL and li-po market with it. But then, it is the most recognized and famous name they own, so what not use it? The Losi names sells, at least for now till they ruin it. (I'm sure Gil Jr is sooo happy he left before the butchering of the family name began in full force) At the very least, Horizon could have asked their BL source to disguise the speedo's and motors better. They look nearly identical to another brushless out there. The Horizon/Losi model is blue. I'll let you find the other.
Associated made some news releasing their RC8 drive-line hop ups last week. Throw a couple hundred bucks at these and you can race your RC8 for a month without the drive-line blowing up. Wait, shouldn't it have come out of the box that way? Silly me, I come from the ole' school where Associated equalled reliable.
HoBao showed their new high end 8th scale racer, called the "Hyper 9 World's Contender", and their new Jammin CRT .5 killer called the "Hyper Mini-ST". First off, I can't even properly pronounce HoBao. Next, name recognition is the single biggest reason anyone advertises. (ever notice that HoBao/Ofna is RCCA's biggest advertiser?) So why not just say "Ofna" instead of HoBao or Jammin?? Any which way, Ofna/HoBao/Jammin sells about a zillion cheap azz 8th scale buggies every day even if they have 3 names. But who's to say they wouldn't sell more if they just stuck with one?? My vote is for plain ole' Ofna. I recognize the name, and can actually pronounce it.
Finally, the new and revived HPI showed pics of their new Vertex Ridge Toyota Soarer drift car. Now, I've made fun in the past of Losi's drifter that came stock with working headlights. (working headlights are for the Wal-Mart crowd I'm sorry) But, this new HPI has to be the Best Looking hobby grade rc car ever released. Yes, it might be in some goofy azz drifting configuration, but it just looks hot. The type of car that just looks too nice to even be driven. This car might become one of the hottest selling shelf-queens ever in this sport.
That's it for this weeks goons. I have upheld my promise to keep the naughty language down, and hopefully made some of the people behind this industry mad. Or at least given them the view of what the average consumer thinks when looking at their new "hot" releases. Chao, aloha, peace out punkz.
And as always, support your local hobby shops and tracks!
Cubby