The Week That Way 06.01.08 – Traxxas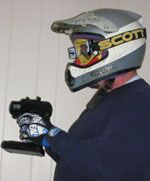 Traxxas has announced re-release of the legendary T-Maxx. The very original was known not only for it's ground breaking look, suspension travel, and innovations, but also for it's finicky tuning, and cranky starting system. Rest assured the new version, while a flash back to the past, incorporates a dose of highly refined upgrades (and much better engine!) which will make it a pleasure to drive and maintain instead of a pain.
Yesterday, while walking through my local Sport Authority store, I noticed that all the paintball gear was heavily discounted. I am certainly no expert on that testosterone heavy sport, but between the heavy discount in the big box stores, and all the stories of playing fields closing, it's obvious that paintball is suffering a lull right now. As are many other sports. Motocross racing in America hit all new
heights (and sales records) during the early 00's, but this year has been one of the worst since the early 90's. The average consumer is shoving more money into their gas tank getting to and from work, and spending much less on leisure activities.
Many rc companies are having record years. Those that cater to the new era brushless/li-po crowd are having great years, those that cater to nitro and anything brushed, are feeling the pain. Still, the worst times are ahead. High shipping and petroleum costs are just now starting to affect the distribution chain, and these will slowly trickle down to much higher prices at your LHS. Kit and rtr prices have remained stable for decades, but that will soon change. Will the average weekend
basher be willing to pay significantly more for the same technology? Common sense tells us no. For our beloved sport to endure these tough economic times, it is going to take some real forward thinking. Luckily, there are hundreds of extremely driven, intelligent, and creative factory insiders that will not go down without a fight. Paintball and motocross have not yet adapted, and their sales figures are waining, here's to hoping that our rc guys will not suffer the same fate.
That's it for this week folks, support your LHS and tracks! And don't forget about Bash-a-Palooza! at Leisure Hours on June14th!
Your Cub Reporter