Thunder Power RC G4 Pro Race 50C Series Batteries!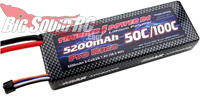 Looks like the folks over at Thunder Power RC are at it again! We just got a press release with info about their new G4 Pro Race 50C series batteries. They are assembled using cells matched by actual internal resistance, capacity and voltage testing. They claim that the packs can last 4-6 times better then most other brands and can be charged at rates up to 6C when using approved charger and balancer combinations. The 50C series are available in capacities from 4200mAh to 5200mAh in configurations from 1S to 4S!
Head over to the Thunder Power RC site for all the details in info!