Thunder Power RC to Release Vehicles! Breaking iHobby News!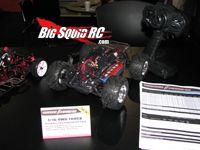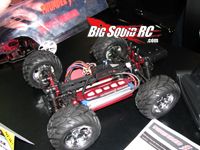 I'm pretty sure that the first few times I walked the show floor, these vehicles were not anywhere to be seen. Then one late evening, just before the show was closing for the day I spotted these two vehicles on a counter in the Thunder Power RC booth!
The 1/16th scale looked sweet! The sign reads:
1/16 4WD Truck.
Brushless/LiPo Powered RTR Truck
100% factory assembled and read to run
Includes 3S 11.1V 900mAH LiPo battery and balancing charger (NICE!)
Capable of speeds up to 40mph right out of the box.
When I questioned one of the Thunder Power employee's, he said it was a project that has been sort of on again off again for a while, and they were looking to get back into it after the show. He had no release date or an official name for the vehicles. If they could keep the price down, I imagine these vehicles could have a chance at catching on! Lets hope for something affordable!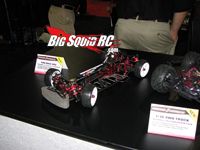 The on-road vehicle sign just talks about batteries, no car details.