Thunder Power RC TP1430C High-Power Charger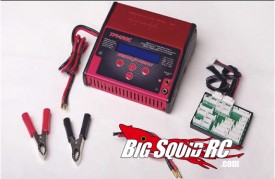 We covered this guy at iHobby 2011 but we now have the official press release for Thunder Power RC's new UBER TP1430C Multi-Chemistry Charger! With 1000 watts of total power, this bad boy can charge 1-14S LiPo, LiIon and LiFe (A123) batteries, as well as 1-40 cell NiCd and NiMH along with 6-48V Pb (lead-acid) batteries. A 2-14S LiPo balancer is built in, and the included board is already setup for JST-XH balance connectors. The charger is compact, USB-capable for firmware upgrades, and did I forget to mention capable of producing 30 AMP charge rates! Yeah, I said UBER. Of course, this charger is backed by Thunder Power RC's 2-year warranty. It should be available around December, for around $200.
Make sure you head over to Thunder Power RC for more info!