Thunder Tiger Sparrowhawk XXT Review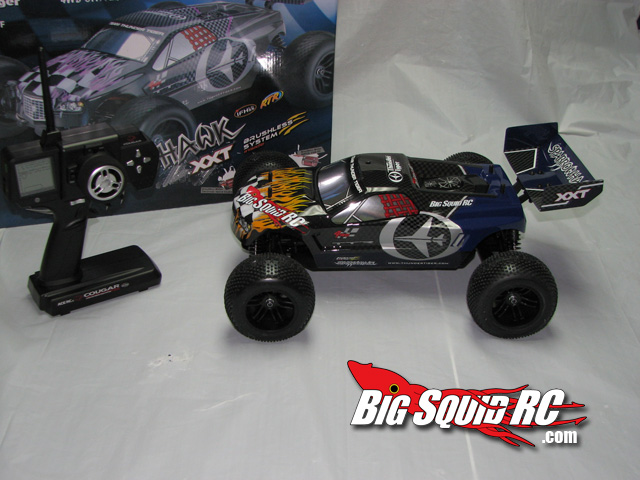 After witnessing first hand Thunder Tigers impressive and aggressive work on the MT4-G3 Monster Truck, we just had to get our hands on some of their other vehicles and put them to the test. Would the Sparrowhawk XXT live up to it's big brothers reputation? Would it be tougher than nails and have us all fighting for the controller? Keep reading to find out..
From: Thunder Tiger
Direct Link: Thunder Tiger Sparrowhawk XXT
Where to Buy: Tower Hobbies, or ask your local hobby shop to get one for you.
Review by Brian.
Big Features:
• Composite tub chassisw/countersunk battery tray
• 4WD shaft driven off-road
• Front and rear universal (CVA)
• 4 oil-filled coil over shock absorbers w/ aluminum caps
• Standard competition slipper clutch
• Full ball bearings on axles
• Hardened-steel gear differentials
• Hardened-steel adjustable turnbuckles and steering tie rods
• ACE RC Cougar PS3i 2.4G radio gear w/ pistol transmitter
• ACE RC BLC-40C brushless electronic speed control
• RIPPER brushless motor IBL36-540C 3300Kv
What's in the box:
Inside the box was the truck completely built and RTR. It comes with a 2.4Ghz radio, and a couple of miscellaneous tools for wheel nuts, etc.
Test Locations:
We tested it during several bashes, on grass, pavement, parking lots and at the Peoria River City Raceway outdoor track.
Drivers: Brian, Wrench, Cubby, Jim
Looks:
Overall the look of the truck isn't bad. The stock paint job is pretty decent. On the official Thunder Tiger America site, they say this is a buggy/truggy but it's really like a 4wd stadium truck with a wing, so don't let the description full you.
Power:
For power, it's got plenty! That ripper motor can really lay it down. On our Onyx NIMH test packs we were running about 26mph. On 2s Lipo we were at 30, and on 3s we were at 40mph! For a truck this small and light this is some good speed. We were all pretty happy with the performance the stock brushless system provided. At the track, Cubby was driving it like he stole it, mostly because he literally stole the controller from me when I set it down and was nailing some fast laps. Several times during the day I heard 'this thing is a beast!' while he was flying down the straights and hitting the big jumps.
Jumping:
In the air this vehicle is like a cat! We had tons of control in the air, and I would compare it to a 1/8th scale buggy. If you needed nose up or down, it was just a pull of the trigger, and surprisingly even with some really bad launches it would usually end up landing on all fours.
Durability:
For what this truck is meant for.. flying around a offroad track, this truck is super durable! For bashing it like we bash, it can also hold it's own. During all the bashes we didn't break a single plastic part. Actually we didn't break much at all, this truck and take a good beating. The only damage we caused in the last few weeks, was doing something crazy. We were launching it off a huge ramp at top speed in a parking lot and landing on pavement. After about the 10th time and some insane air, we landed flat pretty hard and the two screws holding the motor to the motor mount snapped. You can see some of the jumps in the video below. Besides that, we haven't broken a thing.. and honestly I would of expected some more damage by now.
Overall:
We really like the truck. It handles great, and can take some pretty good abuse, it does have a couple of minor issues. All that serious power made pretty quick work of the stock tires. We will be throwing on some more 'all terrain' type tires since we never know where we are going to be bashing next.
Another issues we have is with the center drive shaft. The cup specifically that holds the shaft. There are a couple of pieces that bolt it together and keep it in place, and these stick out into the area where the battery sits. Now with our Onyx NIMH packs we had no issues. The round cells fit fine, but with our larger lipo square packs, the battery can easily rub on these parts causing some trouble. There is a simple fix, so read about that in the mods.
Finally the stock 2.4ghz radio is pretty good but not the most intuitive. You'll be looking at the manual to figure out how to make some simple adjustments, which is never fun.
Final complaint, the name.. seriously.. 1/2 the vehicles on Thunder Tigers site are now Sparrowhawk (insert 2-3 letters here). Call me guys, I'll come up with some names for ya!
Best Mods:
To fix the battery rubbing issues, all you need to do is put something on the bottom brace to push the battery out away from the center drive train. There is room for this, but if you don't stop the battery from sliding around it will rub. We just took a few plastic washers, and tapped them inside to the brace. These fit below the drive shaft, and push the batter out enough to keep it from rubbing.
As with all of our stuff, if you see us at a bash, stop by and check out the vehicles we have with us. We may let you take a test drive, and at the very least get you some stickers!
SUMMARY
Time To Bash – 9.0/10 – Mod the battery tray to keep the batteries from rubbing the drive shaft, and head out.
Workability – 8.0/10 – The layout is easy to work on and get to almost everything. The motor mount assembly was a little confusing to get right after the break, and one of the screws is pretty tough to get to for setting the mesh.
Car Show Rating – 7.5/10 – The body is nothing special to look at, but it does not look bad.
Bash-A-Bility – 8.0/10 – We'd like to see more people hop on the waterproof wagon. This truck isn't meant to be a basher, but it took a good thrashing! Metal shock caps are nice.
Big Squid Rating – 8.5/10 – Tentacles.. The truck has a lot of power, and is pretty durable. If you are in the market for a 4WD Stadium truck (buggy/truggy) take a good look at the Thunder Tiger Sparrowhawk XXT!
Want more pictures? Check out our Thunder Tiger Sparrowhawk unboxing photos.
A video that Wrench posted after one of our Bash's, you can see the truck going sky high around the 1:50 mark.