Thunder Tiger KT8 Kart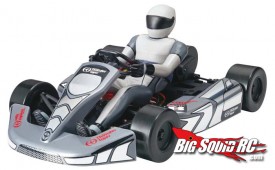 We first broke the news on the Thunder Tiger kart back at iHobby, but now it looks like it's about to start shipping! The Thunder Tiger KT8 Kart is a 1/8th scale kart with a lot of cool features all packed under that kart body. Standard micro-sized electronics, click rubber tires, rear wheel drive with a rear mounting motor for a realistic kart feel and a lot more!
Hit the Thunder Tiger site for more details! We will see if we can get our hands on one of these for review because I think a lot of people would like to know how they handle. The street price on this thing is under $180 with a 2.4GHz radio! Might make a good street basher at that price.