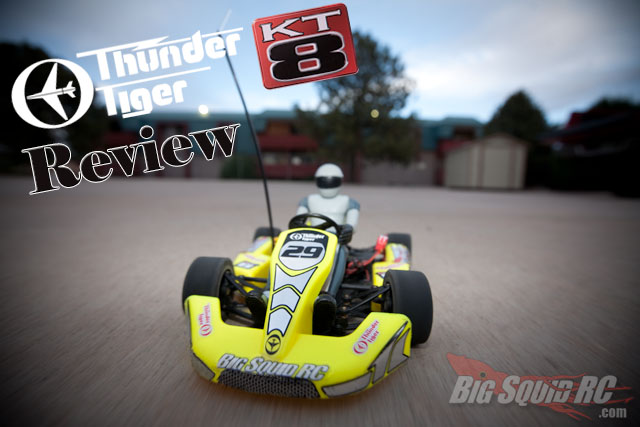 So you've been bashing and thrashing monster trucks, short course, or 1/8 buggies and truggies, but you've grown tired of them and are looking for something different.  Thunder Tiger may have what you're looking for in their new 1/8 scale Go Kart, the KT8.  It's packed with a brushless system for high speeds, but is it durable enough to live up to a basher lifestyle?  Click through the break to find out.
From: Thunder Tiger
Product Page: 1/8 Go Kart KT8 RTR
Where to buy: Tower Hobbies or Your Local Hobby Shop
Basics: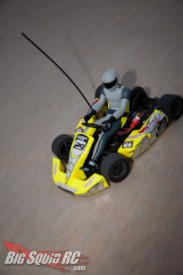 In the box you'll find the fully RTR KT8 with an Ace RC Cougar PS3 2.4 GHz, 3-channel radio system; an Ace RC brushless ESC paired to a 370 size Ripper 5500Kv motor; a small tool and spare parts bag that includes an optional 55-tooth spur gear (stock is 60-tooth), a 4-way wrench, a couple allen wrenches, and some replacement parts.  There's also a few instruction manuals for the car, radio system, and electronics package, and a spare set of decals and numbers.  The radio system might look familiar as it is a rebadged version of Team Associated's XP3-SS, or is it the other way around?  It's a good quality, low-end system that offers a few adjustments on the transmitter, such as throttle ATV, trims, steering dual rate, and servo reversing.  The third channel is activated by a button on the transmitter grip, though it's not used for anything on the KT8.  To complete the package, you'll have to supply eight AA batteries for the transmitter and a 2/3rd A size, 6 cell NiMH or 2S-3S LiPo battery pack for the car, along with an appropriate battery charger.  I performed all testing with DuraTrax's 1600 mAh, 6 cell NiMH packs.  These packs were allowing run times of over one hour in the KT8 and pushing it to a top speed of just about 30 MPH with the 60-tooth spur gear.  If I had used a LiPo, I'd probably still be driving it right now.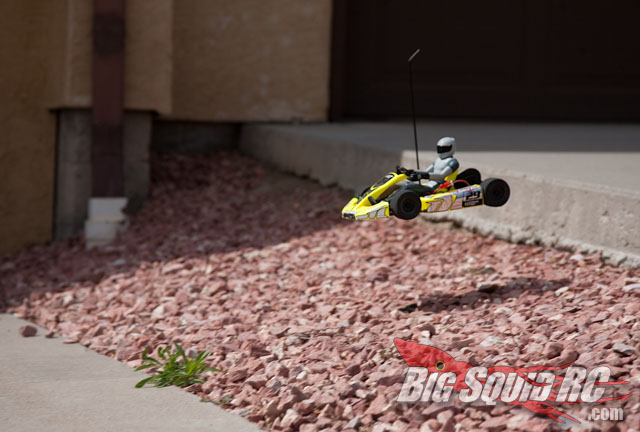 Build quality:
Overall our review KT8 was well put together.  None of the screws were too loose or overtightened, and none had been stripped out.  The electronics were securely fastened with strong servo tape.  The wheels were tightened just right and spun freely and the drive train showed no hints of binding.  There were a few minor problems, but nothing show-stopping or requiring extensive work to fix.  First, the steering servo saver was not properly centered, even with the steering trimmed all the way to the right, the KT8 still had a strong pull to the left out of the box.  Fixing it was easy, I just removed the front fairing, took off the servo saver, turned the transmitter on and then the car, centered the steering trim, reattached the servo saver as close to vertical as I could get it, and reinstalled the fairing.  With that done I was able to get the KT8 tracking straight with just a small trim adjustment.  A second issue is with the steering throw and wheel clearance.  If the front wheels are turned too far in either direction, they rub against the body work or a part of the upper control arm.  You can fix this by either sanding down the contact points, or use the dual rate setting on the transmitter to limit the maximum throw of the steering servo.  I opted for the latter.  Another, very minor, issue that you might find is the included foam spacer for the battery compartment may be too large for some packs.  To fix it, just cut it in half lengthwise with a sharp razor blade.  As I said, nothing show-stopping, and all easily fixed in less than 10 minutes.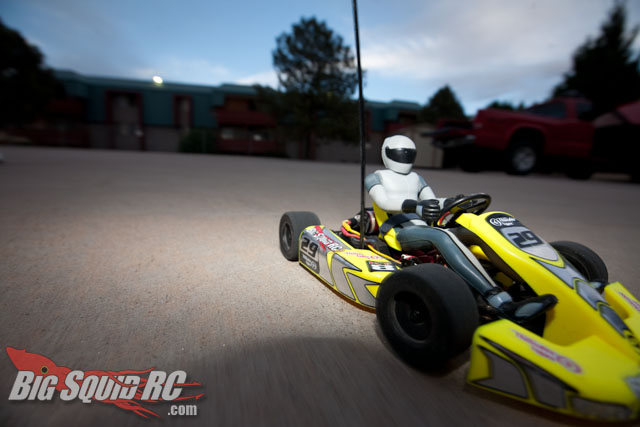 Handling:
The KT8 can be a handful to drive and requires a bit more finesse with the throttle than most cars, r/c newbies might find this car frustrating.  Pan car racers may feel more comfortable with the KT8 while bashers who are used to the forgiving handling of short course or monster trucks will find the KT8 to be a bit of a challenge.  The suspension on the KT8 consists of, well, nothing.  There are no shocks that you can use to adjust handling, all of the suspension action is handled by the flex of the chassis and control arms.  The KT8 has a sealed gear differential, so it can be tuned using diff oils, and this is probably where most of your tuning time will be spent.  The diff was lightly greased from the factory and it was very loose, resulting in unpredictable braking and spinouts when turning under power.  After cleaning out the factory grease, I filled it with some 7,000 weight silicon diff oil and that helped to reel the car in a bit.  Heavier diff oil, 10,000+, would probably help even more.  I think the biggest handling issue is that the KT8 has too much power, and without a slipper clutch to help control wheel spin, that's actually bad news [Ed note: What?!  Blasphemy!  There's no such thing as too much power!  Just learn how to use the throttle trigger Jeff, you dummy.  — Brian].  A lower Kv motor would be one option for bringing it under control.  Other options would be installing a programmable ESC with some sort of launch control and brake adjustment, using a higher end radio system that allows control over throttle and brake curves, or switching to the optional foam tire set.  While I used the included Ace RC radio gear for all of the testing, I will most likely be swapping in my Futaba 4PK in the near future.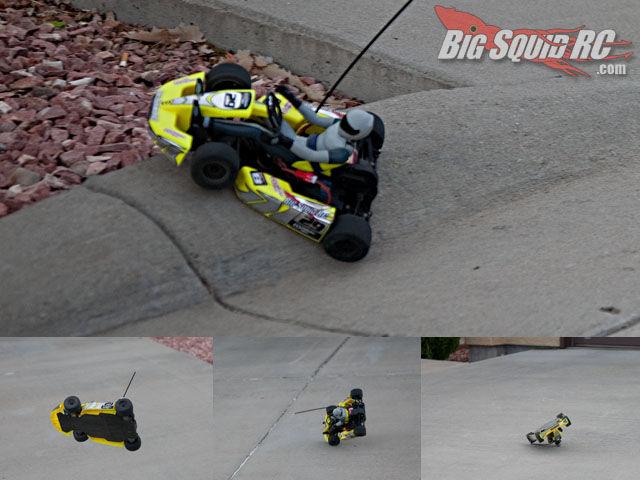 Bashability:
One surprising aspect of the KT8 is it's outstanding durability.  Despite it's rather frail looks, the KT8 has managed to stand up to quite a bit of bashing.  The only time I thought I broke the thing was when I pulled a full speed (a bit under 35 MPH using the 55-tooth spur gear), head-on run into my 1:1 truck's tire.  But there were no broken parts, only a control arm that had popped off it's ball stud.  I snapped it back into place and was back to bashing in less than a minute.  The front fairing and flexible chassis work together as a huge, soft bumper, absorbing anything that gets in front of the KT8 like a chump that's stepped in the ring with Mike Tyson.  It's not just head-on collisions where the KT8 shines, though.  It has managed to take 3+ foot jumps off ledges, full speed runs into curbs, flying glancing blows against decorative boulders, and more flips and tumbles than I can count.  While the handling of the KT8 isn't for beginners, it's durability definitely is, though I wouldn't recommend launching it off any huge ramps, it's just not made for that.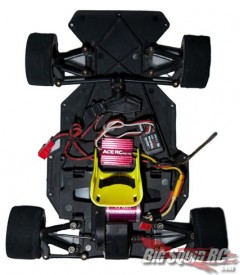 Maintenance:
Maintenance and repair on the KT8 couldn't be easier.  Removing four screws allows you to remove the transmission housing and get to the differential, which is just about the only thing you'll have to maintain on this car.  The only other things you'll have to keep up are the ball bearings, and those are easily removed from the transmission and hub carriers.  The upper control arms are swappable front to rear, e.g. the front-left arms can be used on the rear-right, and the front-right work on the rear-left, while the lower arms are universal all the way around, meaning there's a minimal amount of unique parts on the KT8.  Keeping a supply of replacements in your toolbox, if you even need them, won't be a problem.
Other Info: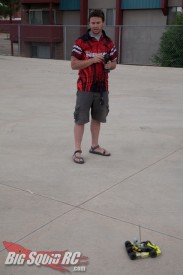 Ideal locations for the KT8 would be any well maintained concrete or asphalt surface, and carpet tracks.  The lack of ground clearance and suspension makes the KT8 nearly impossible to drive on moderately dirty or worn asphalt, it's very possible to high-center this thing on pebbles.  I think that coated concrete tennis courts are the ideal surface for this car, but it's durability is making me consider a trip to the skate park with it.
Final Thoughts:
The KT8 is a durable, speedy, and unique car.  But it's not for newbies, simply because of the unpredictable handling out of the box.  Experienced pan car racers might find a fun, new challenge in the KT8.  For bashers looking to expand their stable, the KT8 offers up something completely different that can take a good amount of abuse and just looks cool speeding around a parking lot.  A few friends with a collection of KT8s could have a lot of fun racing or just playing bumper cars.  I have really enjoyed it and it attracts a crowd anywhere it goes.
As always, if you see us out bashing, stop by and check out the vehicles we have with us.  We may let you take a test drive and, at the very least, give you some stickers!  Also be sure to check out the unboxing pictures.
Summary

| | |
| --- | --- |
| Time to Bash | 9/10 Install the antenna tube, insert batteries, and go. |
| Workability | 10/10 The KT8 could not be any easier to work on.  And since there's so little to maintain and it's super durable you probably won't be working on it often. |
| Car Show Rating | 8/10 It looks like a racing kart, not much to those.  But the driver figure adds a lot to the looks. |
| Bash-A-Bility | 7/10 It's incredibly tough, but you won't be launching it off any huge ramps any time soon. |
| Big Squid Rating | 8.5/10 Tentacles… If you're looking for something different and fun, look for the KT8 on the shelf. |