Thunder Tiger Phoenix STII Review
Thunder Tiger Phoenix STII Review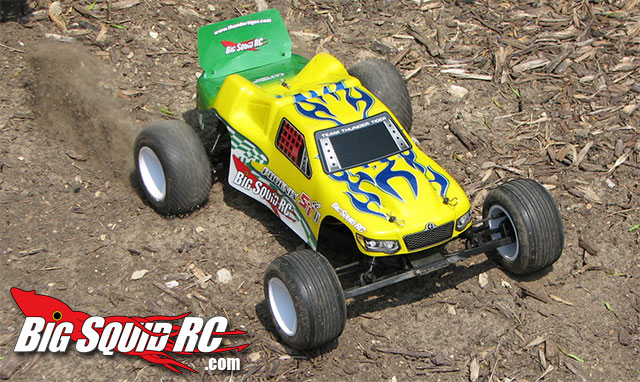 Stadium trucks are not the current rage, but they are still a big part of the RC world. Their low cost and durability often make them a newbie's first vehicle. Thunder Tiger has several stadium trucks under their belt, so how does the Phoenix STII hold up? Keep reading to find out..
From: Thunder Tiger America
Direct Link: Thunder Tiger Phoenix STII
Specs- –
RTR or Kit: RTR
2wd or 4wd: 2wd
Electric or Gas: Electric
Scale: 1/10th
Length: 15.6 in (397 mm) Width: 12.3 in (313 mm) Wheelbase: 11 in (279 mm)
Weight without battery: 3 lb (1,361 g)
Motor: Thunder Tiger Super Sports 17 turn
Speed Controller: Ace Velociti-R with forward & reverse
Radio: Ace Cougar 3-ch 2.4GHz
Shocks: Composite body, oil filled
Tires: Front ribbed, Rear block pattern
Bearings: none- bushings
Battery: Not included
Waterproof: no
Warranty: Thunder Tiger guarantees this stadium truck to be free from defects in both material and workmanship.
Street Price: $139
Primary Competition: ECX Circuit, DuraTrax Evader
What's In The Box: The Phoenix STII is a RTR truck, with radio, motor and electronics. You'll just need to supply the batteries. For our testing we used a 2S Onyx LiPo
Build Quality: Overall the build quality out of the box was good. There were no issues that needed to be fixed or attended to before we could run the truck.
Test Drivers: Brian, Bill (aka Wrench), Cubby
Test Venues: Leisure Hours Raceway in Joliet Illinois, Raceworld Raceway -Indiana, Street, Skate Park, Parking Lot
Turning: Stadium trucks normally have a really tight turning radius, and the Thunder Tiger Phoenix STII is no different. For the speeds we were getting, the servo didn't feel underpowered, but it was a little slow. We were able to ride the lines we wanted to take without a struggle though.
Jumping: In the air the Thunder Tiger Phoenix feels well balanced. On jumps we were usually flat or nose up a little which is much easier to correct and land than being nose down with a 2WD truck. That big wing on the back really catches the air. Even with the BIG air at the skate park or the ramps, we never felt like the jumps were uncontrollable.
Bumps/Whoops: Bumps and whoops were handled ok, though this is where the nose up stuff may hurt you a little. If you have a series of small whoops you want to power through, you could end up nose high making it difficult to steer or stay in control. Going easier on the throttle will let you bring it back in.. but what basher wants to do that?
On-Road: On-road is not what this ST is meant for, but it till does ok. Turning and jumping on the street was good, but the tires are not meant for that and could get worn out quickly.
Tires: The ribbed fronts and small blocked rears are meant to tear it up on the dirt, and they do it well. We had pretty minimal wear during our testing.
Power: The brushed motor provided a good top end (About 26mph on the radar), we would of liked a little better acceleration, and I think on the track we would of geared it for a little less top end, and a little more push to get us over the jumps after a turn. Overall power was decent for who this vehicle is really aimed at.
Broken Parts: After several track visits, a skate park, and street running, we finally ended up breaking the magnet in the motor from a huge jump that landed directly on the pavement. The way the motor sits on a stadium truck is about as low as it can get, and it's easy to smack down hard. We had gotten some huge air, just about landed it flat, but when we did, that motor just couldn't take the g-force. We don't see this as a big deal, you can buy a cheap brushed motor at ANY hobby shop for $20 or less and be back up and running in no time. After all the bashing we did, to only have the motor magnet go was a victory for the truck.
Misc Notes:
As a entry level stadium tuck, it really held up well. The price and durability are right where they need to be. The top speed on the truck is good, and the electronics held up well. We didn't experience any over heating issues or anything. The stock 2.4GHz radio is average, but wasn't uncomfortable.
At some point during testing we did loose some shock oil in one of the front shocks which was causing us to jump a little off kilter. After a re-fill we haven't had any issues, or noticed any excessive leaking, but may be due for a tune up.
Our only issue is parts availability and hop-up parts. Thunder Tiger isn't stocked as well as some other brands, and getting parts at your local shop may be more difficult.
Best Mod Under $5: Upgrade to a Deans plug on your ESC, and make sure your oil is topped off in the shocks.
Best Mod Over $5: A little bit faster steering servo could help, maybe re-gear for a little more acceleration. Replace those bushings with some bearings. Even cheap ones would make a noticeable difference.
---
As with all of our stuff, if you see us at a bash, stop by and check out the vehicles we have with us. We may let you take a test drive, and at the very least get you some stickers!
SUMMARY
Time To Bash – 9/10 – Find some charged batteries, insert and go!
Workability – 9.0/10 – The truck is easy to work on, and has a good amount of tunability.
Car Show Rating – 7.5/10 – The paint and body are ok, nothing to write home about.
Bash-A-Bility – 9/10 – The magnet on the motor finally gave in to a high g-force slam, but nothing else broke!
Fun Factor – 8.0/10 – The truck is fun, and has the ability to go anywhere, but it's really meant for the dirt. A quicker acceleration would of added to the fun factor.
Handling – 8.5/10 -In the air, on on the turns the Thunder Tiger Phoenix ST handles very well.
Value- 8.0/10 – At $139, it's priced right where the others are in it's class, but comes with a 2.4GHz radio.
Big Squid Rating – 8.4/10 – Tentacles.. The Phoenix STII is a good starter truck for anyone looking to get into the Stadium Truck scene, your only issue may be parts availability.