Thunder Tiger TS2e Electric 2wd RTR Touring Car Review
THE Thunder Tiger TS2e Electric 2wd RTR Touring Car Review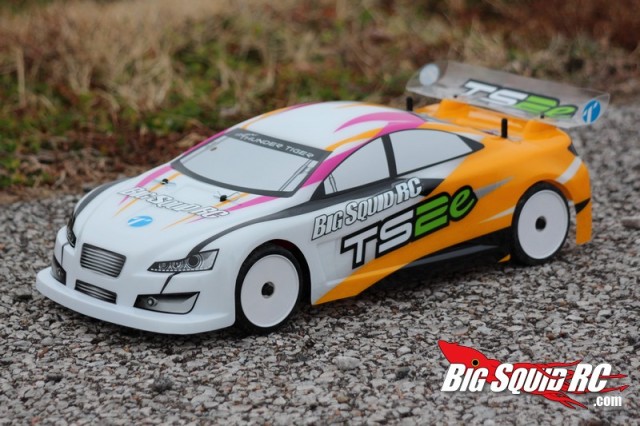 The Thunder Tiger TS2e certainly is an interesting vehicle. From the outside it looks like a run of the mill touring car, but when looking under the hood you find it's a belt driven rear wheel drive only car. Needless to say there are millions of rwd cars on the full scale road, but they are extremely rare in the rc touring car world. Does this rwd basher hold up under abuse? Is it as fun to drive as a rwd full scale car? Let's find out…
From: Thunder Tiger
Direct Link: TS2e RTR Touring Car
Review By: Cubby
Pics By: Cubby
Specs:
RTR or Kit: RTR
Age: 14+
2wd or 4wd: 2wd
Shaft or Belt: Belt
Electric or Gas: Electric
Waterproof: No
Scale: 1/10th
Length: 16.5″
Width: 7.5″
Height: 5″
Wheelbase: 10.2″
Motor: 540 brushed
Speed Controller: Ace Veloci RS
Radio: Cougar GP2 2.4 GHz
Differential: Rear
Slipper Clutch: None
Driveshafts: Bones
Shocks: 2 Oil shocks in rear
Servo Saver: Yes
Screws: Philips
Spur/Pinion Pitch: 48 p
Bearings: Some, also uses metal bushings
Tires: Unbranded street tread with inserts
Battery: Not included
Part Number: 6580-F283 (for orange)
Top Speed (measured by BSRC w/ 2S Lipo): 17 mph
Warranty: To be free of defects at time of purchase
Street Price: $150
Primary Competition: There aren't a lot of rear wheel drive only touring cars out there, but it would be competition for basically any on-road specific bash vehicle.
What's Needed To Complete: Six AA sized batteries for transmitter, a 6 cell Ni-MH the for car, and a battery charger.
Build Quality: Belt tension was a bit tight on arrival. Pinion/spur mesh was quite loose. Right height was a bit off. Everything else looked good to go and well assembled.
Test Drivers: Cubby, Brian, and Tim
Test Venues: City park, various parking lots, a backyard, and a local cul-de-sac.
Set-up Notes: We used Venom AA batteries in the transmitter and a Dynamite SpeedPack 2S Lipo to power the car.
Turning: The TS2e pushed when on-power but found traction and held a good line when off-power. To get it to turn you might let off the gas. Quick 180 pivots are easily accomplished by a quick stab of the brake. Because of it being rwd only, you can't get on the throttle nearly as quickly as a normal 4wd after the apex. You can break the rear end loose by smashing on the throttle just after the apex of the corner, but because of the limited brushed power the rear won't stay out there for long.
Jumping: Hey, this is a touring car, how well do you really expect it to jump? For the record it does not jump well. For having very little weight up front it jumped extremely nose heavy and it was nearly impossible to make corrections in the air. Of course you can jump the TT, but I don't recommend it.
Bumps/Whoops: Yes, we attempted to drive the TS2e outdoors on various dirt surfaces, and no, you don't want to. For a touring car the front suspension is quite limited, making for some seriously rough driving in whoops/bumps. With no sort of damping on the front of the car, much of the time the front wheels were bouncing in the air, making the TT next to impossible to drive on a ball diamond.
On-Road: Overall, the TS2e tracks and drives well enough. A light touch is needed on the throttle until the tires get warmed up, even with the anemic stock power. When taking the TT out in an empty parking lot, it doesn't take long to get used to its handling characteristics, soon you are pulling off all the fun on-road maneuvers that touring cars are known for.
Grass: Sorry, this is a true on-roader, it simply does not have the ground clearance for any type of grass running (yes, we tried).
Tires: The Thunder Tiger street treads provided decent grip after being scrubbed in. These aren't race tires, but for bashing purposes they work well.
Power: There is not much power on tap with the TS2e. Not much torque, not much spank from a dead stop, the mid-range is super soft, and top-end power falls off quickly. Top speed was only 17 mph and it took some time to get there. If you are a first time noob the soft power makes it easy to learn how to drive, however, if you are an experienced driver you will quickly grow tired of how slow the car is and want to upgrade.
Radio: This is the same unit that came with the TS4e we recently tested, and it performed in exactly the same manner. We did not measure range, but the Cougar gave us more than we ever used while testing. It uses 6 AA batteries, which made it feel a tiny bit bottom heavy compared to radio's only using 4, but that didn't bother any of our testers. The foam on the wheel felt fine while the trigger size and throw also felt good. The grip had a notch on the front (that rests on top of the middle finger) that was a bit hard edged for our taste. Overall, solid radio that worked fine for us.
Broken Parts: The TS2e didn't break until we started jumping it. On it's maiden voyage off the ramp (about 18″ tall) we broke a front steering block when landing.
---
Misc Notes:
The front suspension is said to be "F1 type". Well, it might very roughly look like F1 front suspension, but it isn't set up anything like F1. It is the worlds simplest set-up, springs at the hubs, with no type of damping. Did this make the car drive horribly? No, it was still quite drive-able, but a more modern/standard shock set-up with have been much preferred.
With the type of suspension it uses, the front a-arms have no way of moving up and down. And… the front body mounts are directly bolted to the a-arms.
On a driving note, the TS2e pulls a great J-turn.
A stock brushed Slash eats the TS2e alive in a drag race.
Motor temps were exceptionally low with stock gearing. To get a bit more yank we added some teeth to the pinion and motor temps shot up quickly, so high in fact that we overheated the stock motor and were forced to install a new one. If you are looking for more speed, don't over gear the stock motor, bolt in a new power system.
Best Mod Under $5: Cut that stock connector off ASAP and solder up a quality unit.
Best Mod Over $5: Easy answer on this one, an upgrade for the power system. Even a low-end brushless system will be much faster than the stock set-up.
---
Summary:
A = Outstanding/Best in Class, B = Above Average, C = Average, D = Below Average, F = Horrific
Time To Bash – C – We spent a couple extra minutes setting the rear ride height and adjusting pinion/spur mesh while waiting for the battery to charge, otherwise it was quick and easy to get running.
Workability – B – Anything you might need to work on is right out in the open and easily accessible.
Car Show Rating – C – While the BSRC Bash Crew liked the look of the TS2e body, which featured some well done graphics, there was no bling to up the cool factor.
Bash-A-Bility – B – We slammed the TS2e around pretty hard and it didn't break until we hit a ramp with it.
Fun Factor – C – On the upside- the rear wheel drive gives it a unique and more "realistic" feel for a touring car. It was a blast to kick the rear end out when coming out of corners. On the downside- the power system is one of the softest we've tested.
Handling – C – There aren't many cars of its type to directly compare it to, but it drove well enough. It does not have a ton of over-steer, an attribute that would have made it hard for a noob to drive, in fact it is exceptionally easy to drive. However, its front suspension holds the car back, reducing its overall performance.
Value – C – The TS2e certainly comes with a reasonable enough price point, $150. For that cash you are getting a 2.4 GHz radio set-up, but a slow brushed system and old school front suspension.
Parts Availability – C – You won't find replacement parts for the Thunder Tiger at every hobby shop, thankfully, they are readily available on-line.
BigSquid Rating – C+ – If you are big fan of rear wheel drive, you are a first time noob looking for an exceptionally easy to drive car, or you are looking to save a few bucks, the Thunder Tiger TS2e is a viable option. However, if you have the extra cash I'd recommend its big brother, the TS4e, it simply handles better and has more power out of the box.