Thunder Tiger TS4e Brushless 4wd RTR Touring Car Review
THE Thunder Tiger TS4e Brushless 4wd RTR Touring Car Review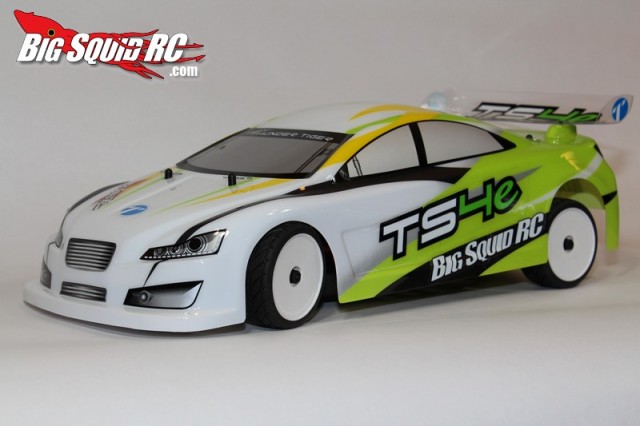 Intro: Many a bash-mobile sees nothing but pavement in its entire lifetime, yet every day you see people buying off-road trucks instead of a purpose built road machine. Thunder Tiger has introduced a new 4wd RTR brushless touring car to the market called the TS4e. We've been driving, drifting, crashing, and jumping the TS4e for weeks now. How does it drive? Is it worth the cash? Can it take a hit? Read on to find out…
From: Thunder Tiger
Direct Link: TS4e RTR
Review By: Cubby
Pics By: Cubby
Specs:
RTR or Kit: RTR
Age: 14+
2wd or 4wd: 4wd
Electric or Gas: Electric
Waterproof: No
Scale: 1/10th
Length: 420mm
Width: 190mm
Wheelbase: 260mm
Motor: Ripper IBL 36mm 3300 kv brushless, 8 cell Ni-MH max
Speed Controller: Ace RC Brushless BLC-30C 2S max
Low Voltage Cut-off: Yes
Radio: Cougar GP2 2.4 GHz
Differential: Front and rear
Slipper Clutch: No
Driveshafts: Dog bones
Shocks: Plastic body, oil filled
Screws: Philips
Ball bearings: Yes
Spur/Pinion Pitch: 48 pitch
Tires: Unbranded street tread with inserts
Servo saver: In steering rack
Battery: N/A
Part Number: 6582-F284
Top Speed (measured by BSRC w/ 2S Lipo): 22 mph
Warranty: To be free of defects at time of purchase
Street Price: $240
Primary Competition: Associated TC4 RTR
What's Needed To Complete: Six AA sized batteries for transmitter, 6 cell Ni-MH for car, and a battery charger.
Build Quality: Ride height was set too low in the front of the car out of the box. Belts were adjusted overly tight, as was the pinion/spur mesh. We found excessive play in front upper arms. Everything else was good to go.
Test Drivers: Cubby, Brian, Tim and Iron Mike
Test Venues: City park, CostCo parking lot, and a local cul-de-sac.
Set-up Notes: We used Venom AA batteries in the transmitter and a Dynamite SpeedPack 2S Lipo in the car. We adjusted the belt tension, pinion/spur mesh, and ride height before driving.
Turning: The Thunder Tiger pushes when on power, but the moment you let off the gas weight transfers to the front and the TS4e plants and steers nicely. We found the Thunder Tiger consistent and easy to drive in all types of corners, from sweepers to tight 180's. Can the Thunder Tiger keep up with a high end Associated TC6 in the corners? Probably not, but it is certainly predictable, fun, and easy to drive.
Jumping/Off-road: Jumping? Ya, you are gonna want to skip doing much of that with a touring car. Endo's are imminent, and the limited rotating mass and rpm of the TS4e can't bring the nose up. For off-roading we drove the TS4e on some light gravel in a parking lot and it did quite well. We didn't have any issues with the rocks jamming up the drive-train, and the car actually drove/drifted really well on the small rocks.
On-Road: This is a touring car, so it should have been dialed on-road right? Actually yes, it drove very well on pavement. It's predictable, it rarely got rattled by road joints, and was generally a pleasure to drive. The TS4e has good mechanical grip lending to good corner speed and it accelerates to top speed in nothing flat. If you and your friends are into playing the driving game of "tag" on pavement, your truck driving buddies will have an extremely hard time catching the TS4e. The Thunder Tiger touring car is much more nimble on-road than any stadium or short course truck.
Grass: Yes, we attempted to drive the TS4e in short grass, and no, you don't want to. LOL This is a touring car after all, there just isn't enough ground clearance for driving in the green stuff.
Tires: Stock tires are molded in a fairly soft compound and come with soft foam inserts lending to good mechanical grip for an RTR. No complaints from us on the tires at all for bashing purposes.
Power: One squirt of the throttle and you can immediately tell the Thunder Tiger has brushless power, it goes from a dead stop to its top speed in nothing flat. However, the TS4e is geared quite conservatively topping out at only 22 mph. During testing we got long runtimes, no hint of cogging, and very tame motor temps, which are all upsides to using low gearing. Gearing low was certainly the smart way to go on a vehicle aimed at newer drivers, but the "wow" factor of most brushless systems is not there in the TS4e. Luckily, that "wow" factor is only a pinion change away, but expect to lose some run-time and experience hotter motor temps should you gear up.
Radio: We didn't measure range, but the Cougar gave us more than we ever used while testing. It uses 6 AA batteries, which made it feel a tiny bit bottom heavy compared to radio's only using 4, but that didn't bother any of our testers. The foam on the wheel felt fine while the trigger size and throw also felt good. The grip had a notch on the front (that rests on top of the middle finger) that was a bit hard edged for our taste. Overall, solid radio that worked fine for us.
Broken Parts: The rear wing, which is only attached via small very small screws and no nuts, came off super early in testing. This is easily and cheaply fixed by simply putting in two larger bolts with nuts on them. We didn't "break" anything during normal testing, so we started to up the ante. On our second jump off a roof we ended up breaking three of the four body mounts. We also had a shock start leaking on us, but that was after some pretty insane jumping and bashing action.
---
Misc Notes:
The stock steering servo had plenty of power and was fast enough to get the job done.
The stock speedo worked fine, was reasonably smooth, and we experienced no cogging at all with it.
During testing our area experienced some rain. While the TS4e isn't said to be waterproof we had no problems with running on lightly damp pavement.
The guys around the office were fans of the stock body. It's a got a racy look with nice lines.
For a touring car the TS4e had a lot of suspension travel. This is good for soaking up bumps and for general bashing. Extra long travel also makes the TS4e a good candidate for being converted over to a rally car should you get the urge.
We are not big fans of belt drive around the office but the belts on the Thunder Tiger worked fine.
Best Mod Under $5: A new pinion with more teeth. Out of the box the TS4e is geared very conservatively, a bigger pinion will unleash some of the beast.
Best Mod Over $5: Solid overall car, but if I were going to dump some cash into it I'd try adapting over TC3/TC4 body mounts for durability purposes. After that I'd spend some cash on a good 2S Lipo to power the car with.
---
Summary:
Time To Bash – 8/10 – We had to do some minor changes before driving (adjusting pinion/spur mesh, setting front ride height), otherwise just pop in some batteries and you are on track.
Workability – 8.5/10 – The TS4e is laid out where everything is easily accessible, we would like to have seen hex hardware though.
Car Show Rating – 8.5/10 – The Thunder Tiger comes with a nice looking shell and graphics, well liked around the office.
Bash-A-Bility – 8/10 – Under normal bashing the TS4e held up well, under extreme abuse we managed to break a few parts.
Fun Factor – 8/10 – Easy to drive with nice yank, yes, the TS4e is fun to drive.
Handling – 8/10 – The TS4e does well in the corners and over road joints, no traction rolling either. A good handling machine for bashing conditions.
Value – 8/10 – With a sticker price of only $240 you get brushless, 2.4 GHz, and a car that can take some hits.
Parts Availability – 8/10 – You won't find replacement parts on local hobby shop shelves like you would with a Traxxas, but parts are readily available should you need them.
BigSquid Rating – 8.1/10 – Tentacles. The Thunder Tiger TS4e isn't a high end racer but it is a solid, bash worthy, touring car. The TS4e would make a nice first car for someone just getting into the hobby, just as it would for the experienced hobbyist looking for some on-road bashing fun.