Tips for Bashers: Cheap replacement outdrive springs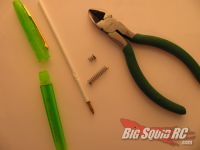 It's well past time to add another entry to our Tips for Bashers section.  This time I'll show you something that will save a bit of money and keep your ride running right.
A lot of r/c cars and trucks that use dog bone style axles, instead of universals, have small springs in the differential outdrives to keep the dog bones in the right place.  They're usually small springs that can be easily lost in a crash or during routine maintenance.  A quick and cheap replacement for these springs can be found in any old clicky style pen.  When the pen is used up, instead of throwing it away, just take it apart and remove it's spring, get some wire cutters and cut off a piece about the size of the old spring, usually about 1/8″ – 3/16″ long or so, and put it in the outdrive.  The pen springs will work better and last longer than any other thing you might stuff in there, other than an original replacement part.
Is it cost effective?  You can get a dozen cheap clicky pens from Wal-Mart for about $8.50, you can usually get four or five replacement springs out of one pen spring, so that's about 17 cents a spring.  Compare that to almost $3.00 for a pack of two springs that some manufacturers want for original replacement parts, or nearly $1.50 per spring.
If you want to save yourself some trouble and not lose your springs to begin with, take some super glue and put a drop or two into the outdrive, then drop the spring inside.  As long as you don't use an excessive amount, the super glue should be just strong enough to keep the spring in place, but also weak enough for the spring to be pulled out if need be.
If you are really in a bind, it's not as nice but you can also use a small piece of fuel tubing. It's not great, but if your somewhere and you don't have anything else, give it a try.