TLR XXX-SCT/B Tuning Kit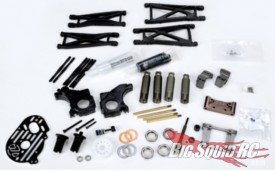 It looks like the guys over at TLR (read: Losi) have released a new Tuning Kit for the XXX-SCT and XXX-SCB. The kit offers all the parts you need to really get your XXX-SCT/B into serious competition status. Upgraded suspension arms, shock bodies, shock shafts, hardened diff balls, and rear hubs are just some of the upgrades in the kit. It will be avaliable in late May 2011 for right around $130.
Be sure to check out TLR for more details and a complete kit list.