Tons of new Pro-Line Tires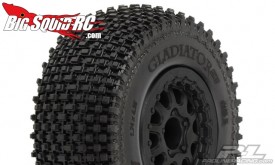 Our friends over at Pro-Line have just released a ton of new tires! You can now get the ever-popular Caliber 2.0 SC 2.2″/3.0″ mounted on either ProTrac Renegade or Renegade Black Wheels in medium or soft compound. You can also get the Trencher SC 2.2″/3.0″ or the Gladiator SC 2.2″/3.0″ mounted on black Renegade wheels in medium compound. They also offer the Revolver 2.0 M3 (soft) mounted on V2 White Wheels for all you 1/8 scale buggy drivers. Lastly, Pro-Line now offers a M4 (Super Soft) Revolution tire line featuring the Caliber VTR 4.0″ and Hole Shot VTR 4.0″ for 1/8 scale trucks, and the Hole Shot T 2.2″, Caliber 2.2″, and Suburbs T 2.2″ for any 2.2″ rear truck wheels.
All of these tires and combos should be shipping by Mid May. Make sure you bounce on over to Pro-Line's website to check out all the specs, pics, and info on these new tires!