TQ Racing wants to smooth out your ride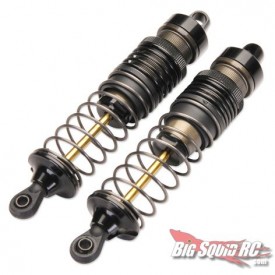 Big bore shocks are all the rage these days, their extra size and capacity makes for a more consistent shock experience, especially over very bumpy terrain. TQ Racing is now on the market with their own big bore shocks for short course and stadium trucks.  What separates these from all the rest is the two spring setup that allows you to fine-tune your suspension even more using varying spring rates between the top and bottom.  The shocks come in two lengths, short for the front and longer for the rear.  Starting soon they will also become standard equipment TQ's own SX10 SC and SX10 T Pro Roller kits.
The shocks are available now for dealer orders, so they should be hitting store shelves in the next few days or weeks.  MSRP is going to be $65.99 for a pair.  Check out the TQ Racing website for more info.