Trackseekers Indoor RC Track Opening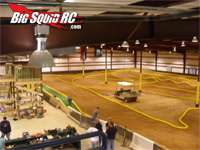 A week or so ago we mentioned the Trackseekers Flowood Indoor RC Track in Flowood, MS. They recently let us know that their official ribbon cutting is Thursday December 9th, 2010 and their Grand Opening Toy's for Tots race is Saturday December 11th, 2010! The place sounds amazing, and the pics on the site look good. If your in the Mississippi area, you should stop on in! Tell them Big Squid sent ya! Then write back and let us know what ya think!
Check out the Trackseekers site for details.