TrakPower 12V 25A Power Supply Review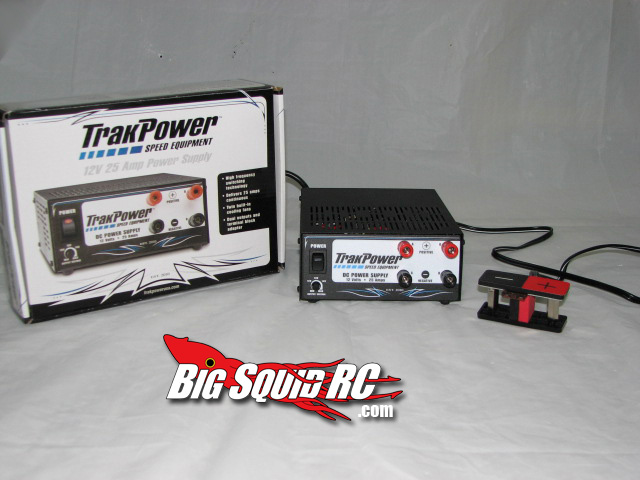 The world of RC is all about electric lately. From micro to 1/5th scale, anywhere you go it seems there are more electric vehicles currently being run than nitro. Over time nitro and electric have ping ponged back and forth over popularity, but at the moment, it's all about electric. So if you have hopped on the electric band wagon, or planning to, you are going to need a power supply to help get all those packs charged right? That's the reason we picked up the new TrakPower 12V 25A Power Supply. How's is it? Does it do what we need? Keep reading to find out…
From: TrakPower Speed Equipment
Product Page: TrakPower 25A 12V Racing Power Supply
Where to buy: Tower Hobbies or your local hobby shop.
Most good battery chargers do not come with a built in power supply, so you will need an external one to get those chargers up and running.
Specs:
Input Voltage: 110-120V 60Hz
DC Output Voltage: 11-15 volts, adjustable via knob. You'll keep it around 13v.
DC Output Current: 25 amps maximum
Max. Rated Power: 300W
Cooling: Twin rear mounted fans
Output Connections: Two sets 4mm banana jacks w/detachable terminal hook
Overload Protection: 25 amp solid-state current limiter
Case Size: 5.5″ x 7.2″ x 2.5″ (140 x 182 x 64mm)
Weight: 49 oz. (1375g)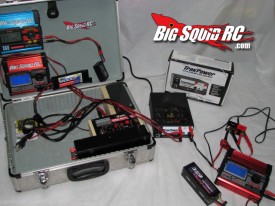 Usage:
The power supply is lighter than a few I have used in the past, with also a higher amp output. The dual fans keep the power supply running cool and at the same time are pretty quiet. The terminal block adapter is something I haven't really used much till I got this power supply. I have seen other people use them, but only recently decided I needed to try it out. Because of all the battery packs we are charging around the office, we have a LOT of chargers. If you have ever seen one of our Lipo Shootouts with a picture of 12 chargers and 12 batteries, you will know what I mean. Even if you are not doing some huge battery shootout, you still may find a need to charge 2 or even 3 batteries at once, and to do that you need a power supply that can handle the load. The included block adapter worked well, and allowed us to connect several more chargers. Be careful as these are exposed and you don't want to just let it lay around your work bench with other metal parts that could touch them.
The TrakPower 12V 25A Power supply had no problems under the loads we were throwing at it. We often had 3 and even 4 power supplies running off of it charging all sorts of batteries. You still need to keep a eye on your charge rates and amps. You can't go charging 3 4s Lipo's at 5C, but if you have a lot of packs that you are charging at 1C rates or single packs at 5C, this supply will have no problem getting it done. One of our old power supplies would heat up any time we were trying to charge 2 4S packs on two different chargers, but the new TrackPower does not even break a sweat. The fans keep the internals nice and cool.
Final Thoughts:
We have been digging this new power supply so much, I think we will be re-working our traveling charger case to incorporate the new power supply, and pick up another one for keeping in the workshop. If you are looking for a new power supply with enough guts to run several chargers, the TrackPower 12V 25A will be a good option for you.
Like with all of our stuff, if you see us at a bash, or out at the track, stop by and check out what we brought with! Don't forget to get some stickers from us!
Summary

| | |
| --- | --- |
| Time to Bash | 10/10 Plug it in, and go! |
| Workability | NA/10 You probably shouldn't be opening this thing up |
| Car Show Rating | 8.5/10 Looks ok. It's small and lightweight |
| Bash-A-Bility | NA/10 It's in a strong metal box we can toss into our pit bag, tool box, or charging station |
| Big Squid Rating | 9/10 Tentacles… Plenty of power to handle all your charger needs. |
After you pick up the power supply, if you are wondering what charger you should get, don't forget to check out our Charger Shootout!