TrakPower 2S 7.4v 60C 5400 Mah Saddle Pack Lipo Battery Review
THE TrakPower 2S 7.4v 60C 5400 Mah Saddle Pack Lipo Battery Review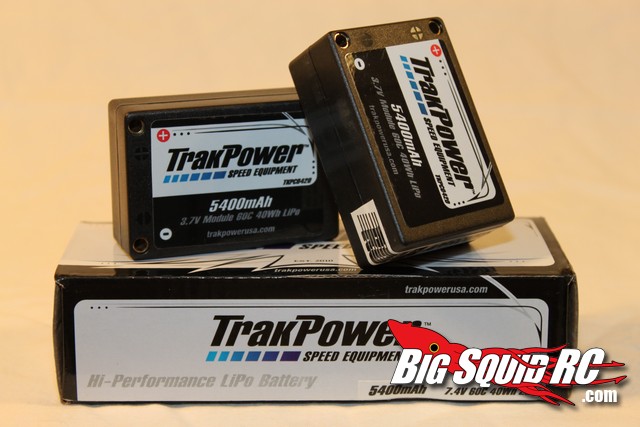 Back in the day saddle pack batteries got a lot of use, then for years they seemed to fade away. Once again chassis designers are going back to using saddle packs to help optimize weight distribution. Today we'll be reviewing TrakPower's entry into the saddle pack Lipo wars, their 60C 5400's. Are they worth your cash? Let's see…
From: Trakpower
Direct Link: Trakpower 2S 7.4V 60C 5400 mah Saddle Pack
Review By: Cubby
Pics By: Cubby
Specs:
Battery Type: Lithium Polymer
Stated Capacity: 5400 mah
Cell Configuration: Saddle Pack
Voltage- 7.4v (max voltage 8.4, min voltage 6.0)
Discharge- 60C constant (324 amps)
Weight (measured by BSRC, battery including jumper wire, bullets and Traxxas connector)- 301 grams
Dimensions (measured by BSRC)- 25 x 47 x 69 mm for each module
Balance Plug Type- 2mm bullet on jumper wire
Stock Connector- 4mm bullets
Max Charge Rate- 1C/5.4 amps
Street Price: $100
What's In The Box: Everything you need to get up and running- a pre-soldered jumper wire and a pair of 4mm bullets.
Build Quality: Hard cases were solid and put together well. Bullet connectors fit well. Overall, nice quality.
Test Platforms: Durango DESC410R
Test Drivers: Cubby and Brian
Test Venues: RC Outlaws in Collinsville Illinois and a grassy backyard
Driving Impressions: We used the TrakPower saddle pack in our Durango DESC410R that was equipped with a Castle Max Pro and a 1410 brushless motor. Maybe we were geared to the moon but our Durango freak'n ripped hard on track. Low end was manageable, but the mid range and top end were quite a bit more robust than we expected. No, we were not able to go back to back with another saddle pack for comparison, but I know fast when I feel it, and our TrakPower equipped Durango was digging trenches off the line and was capable of over-jumping everything.
Downsides: I'd like to have seen a faster charge rate, 1C just doesn't cut it now days. Also, the included jumper wire was much longer than required. Not a big beef, but excess wire means additional resistance and it was so long as to have created an issue with getting into spinning drive-line parts.
About The Graphs: We used a West Mountain CBA discharger to performed a 1C/5.4 amp discharge to test capacity. Next we did a 30 amp discharge, then a 6C/32.4 amp discharge, and finally a 60 amp continuous discharge to see how well the TrakPower held its voltage under a continuous load. The higher a battery can hold its voltage, the faster your car/truck will be. Ambient temp for all bench tests was 72 F, the pack was always charged on a Hyperion 720iNet3 at 1C/5.4 amps and voltage cut-off was always set at 3.0 volts per cell during discharges. We tested it with a Traxxas connector just like we have done for every other pack.
I compared the discharge graphs of the TrakPower 2S 60C 5400 to the winner of our last shootout, the Gens Ace 2S 45C 5800. When compared to the Gens Ace the TrakPower produced roughly a tenth of a volt less at both 30 amps and 60 amps across most of the curve. Considering the TrakPower had significantly less capacity (roughly 400 mah), weighed 40 grams less, and the fact the Gens Ace is known to be an above average performer on the bench, I'd say the TrakPower did quite well. No, the TrakPower didn't break any records, but considering it's size, weight and capacity it was a solid performer.
Measured Temps:
1C – 81 F
30 amp – 102 F
6C – 103 F
60 amp – 111 F
Measure Capacities:
1C – 5265 mah
30 amp – 5195 mah
6C – 5204 mah
60 amp – 5057 mah
Measure Run Times:
1C – 58.3 minutes
30 amp – 10.4 minutes
6C – 9.7 minutes
60 amp – 5.01 minutes
---
As with all of our stuff, if you see us at a bash, stop by and check out the vehicles we have with us. We may let you take a test drive, and at the very least get you some stickers!
SUMMARY
Time To Bash – 8.0/10 -Not as fast as a completely pre-soldered pack, but soldering on a pair of bullets doesn't take any more time than soldering up a normal connector.
Car Show Rating – 8.0/10 – Clean looking pack.
Bash-A-Bility – 10/10 -Yes, we were hucking the Durango off of roofs and casing big jumps with the TrakPower inside and thus far the battery has shown no ill effects.
Fun Factor – 8.5/10 – Having more than enough yank on tap to pass 8th scale buggies is a smile producer.
Power – 9/10 – The TrakPower saddle pack absolutely ripped on track. A bit softer than the most elite packs, but still plenty fast.
Value- 8.0/10 – The TrakPower isn't cheap but because it puts out a formidable amount of power it's a good value.
Big Squid Rating – 8.6/10 – Tentacles.. We were impressed by the TrakPower saddle pack Lipo. Mashing the throttle on our TrakPower and Castle equipped Durango was quite the experience- the truck would hunker down and simply rocket away from a dead stop. If you are looking for a high quality saddle pack the TrakPower is a solid choice.