TrakPower Dark Series LiPo's are out!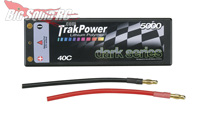 I know the FlightPower batteries have been gaining a lot of fans lately, and I'm sure this new line will make those fans happy! New from
FlightPower is the TrakPower Dark Series LiPo's. With up to 80C burst capability, these 5000mAh 40C packs are designed for the power hungry electric vehicles. They are hard-cased, ROAR approved, and come with 4mm female bullets for the discharge and 2mm female balancing tap. There is also a 3600mAh pack, and 4650 saddle pack version.
Check out the Flight Power Batteries web site for more info!