TrakPower Soldering Iron Review
THE TrakPower TK 950 Soldering Iron Review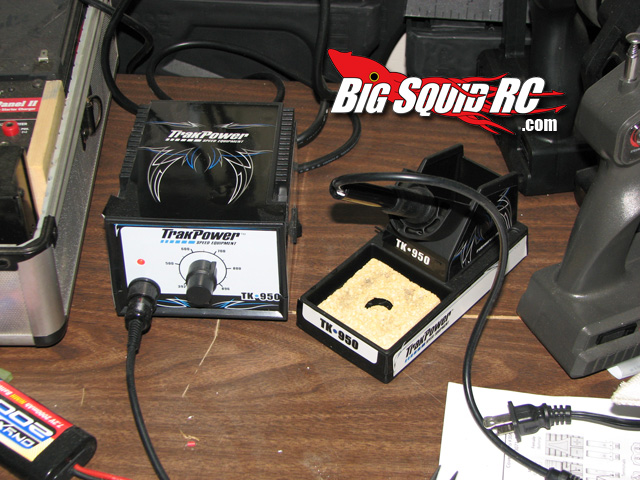 A while back Evan reviewed the Team Checkpoint Soldering iron. A lot of us using the generic irons were impressed, so when the TrakPower iron was announced, we picked one up to see if there were any changes, and because we needed to replace more of the $15 RS ones. So hows the new TrakPower version? Read on…
From: TrakPower
Direct Link: TrakPower Soldering Station
Available at Tower Hobbies or your local hobby shop.
Street Price of System: $79.99
Reviewed by:Brian.
Specs –
60 watt design
temperatures range form 392-896°F (200-480°C)
Size: 4.7 x 3.7 x 2.8 in (120 x 93 x 70 mm)
Weight: just under 3 lbs.
In The Box – It comes with the Soldering iron and power supply, chisel point tip, pencil tip, stand, sponge, instruction manual and stickers. It also has a 5-year warranty on the unit, and 1 year on the iron handles electronics.
Build Quality– The quality of the device is good. Nothing about the iron itself feels cheap or fragile. The sponge is a little thin compared to others, but not a huge deal. The stand seems to do ok holding the iron in place, but it does give you a feeling that it's not secure. Unlike others that have a larger metal spring like holder, this one is solid and rounded.
The cord connection that Evan had a couple of issues with has been fixed, and now is a secure fit.
Ease Of Use– It's amazing how fast this thing heats up. Most temperatures are reached in a minute or less! My old iron seemed like I could turn it on, finishing working on a car or painting a body, and then maybe it was up to temp. No waiting around with the the TK 950! The manual is well written, and even gives a couple of tips on how to get started soldering.
The temperature knob has the ability to be locked in place. So if you have a lot of work that you are doing, and you always want the same temperature once you have found the ideal one, you can lock it in.
After using a 'generic' soldering iron for years, once I used the TK 950, I will not be going back! I'm not the best solderer in the world (ask Cubby.. he laughs at me all the time!) but I do feel like I'm doing a better job. It's one of those situations where the right tool can make a difference!
As with all of our stuff, if you see us at a bash, stop by and check out the vehicles we have with us. We may let you take a test drive, and at the very least get you some stickers!
SUMMARY
Time To Bash – 8.5/10 -Stick some stickers on, plug and secure the cord, and you are ready to go. Time to solder is quick.
Car Show Rating – 8.5/10 – It's a decent looking system, not that it matters much.
Bash-A-Bility – 9.0/10 -Haven't broken anything yet. Haven't drop tested it, but so far, so good.
Power- 10.0/10 – This thing heats up fast! All that time I wasted before.. waiting for my old iron to get hot..
Value- 9.0/10 – It's worth the money. Make the jump to the better tool.
Big Squid Rating – 9.0/10 – Tentacles.. – It's hard to believe how much better it is over a 'generic' iron, but it really is. If you do a lot of soldering, you owe it to yourself to pick up one of these. They fixed some of our original issues, and I believe it's a winner.