Trans-Am U.S. Vintage R/C Racing Series Coverage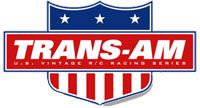 So this last weekend I had a chance to attend the U.S. Vintage Trans-Am Nationals! I was getting tired of sending Cubby around the world doing event coverage and piling up the 'grown up entertainment' expense report!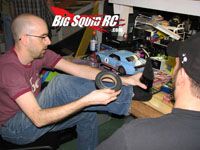 While there, I got to meet up with Doug, the guy who runs the events. There is a picture of him here wrapping his foot in electrical tape. I think he broke it while marshaling a vehicle! Eww it looked nasty. I also got to hang out with Collin from HPI Racing. Both great guys, and definitely people I want helping promote RC racing! I took some pictures, and some video. I have a lot to sort through, but I will add them as I get the chance.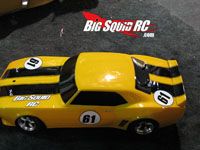 Let me start off by saying this, until you actually attend an event like this in person, I'm not sure you will understand just how cool it was. When I first heard about them running 4-cell vehicles, I was worried that the action was going to be a little too slow for my liking. I could not of been more wrong.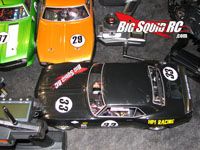 First off, the event was extremely well run! Kudo's to everyone there that kept it running smoothly! The whole event had this vibe, it was as if everyone was happy. Everyone was there, really enjoying RC for what it is, FUN! I didn't see anyone getting all upset over stupid things, or people steaming mad at other racers, it was just a big group of people having a good time.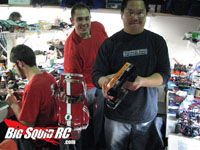 There were a good amount of Big Squid RC fan's there, (HI Guys!) and it seemed like every time I turned around, someone was yelling out 'Big Squid RC! Wooo!' So that was very cool. It's always nice to meet the readers, get their opinions on the site, and thank them personally for their support.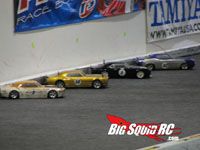 One of the coolest parts of the event were the bodies and paint jobs. Most races have bodies that look nothing like real cars, with florescent pink and green paint jobs, but these vehicles looked like real cars, with real paint jobs! You could tell people put as much time into their paint jobs as they did tuning their ride! Even if the paint was simple, it usually looked good.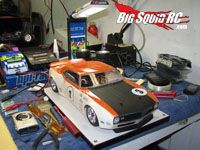 Because of the 4-cell limit, and the top speeds of the vehicles, it was more 'newbie' and kid friendly. You didn't have to be a pro that can handle 60+ mph back straight speeds, but just the ability to keep calm, drive your lines, and pay attention. Slow and steady CAN win this race. If you get a chance to catch or participate in one of these events, I highly recommend it! I plan on having a car next year for sure!
Hit the jump for more pictures!