From: Traxxas
Direct Link: Traxxas 1/16 E-Revo
Review by Brian.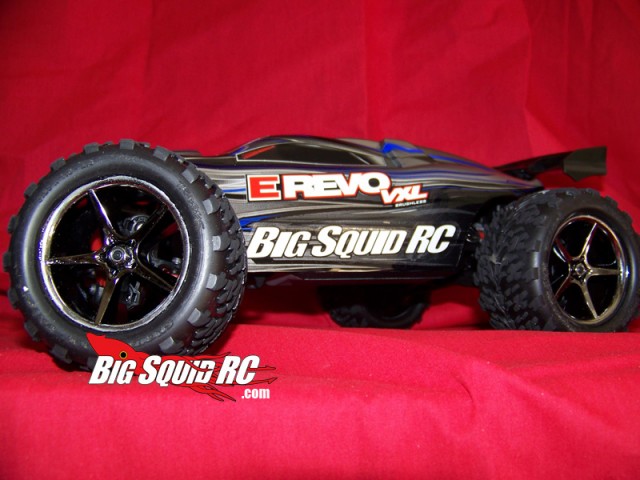 While a lot of people call it the Mini E-Revo, the good people over at Traxxas will be quick to point out that there is nothing 'mini' about it. From it's power and speed, to hop-ups and durability, the 1/16 E-Revo does everything big. How big? Well, lets dive into our review of the Traxxas 1/16 E-Revo VXL!

First, a few facts about the version we are working with. We are using the Brushless VXL version that comes with the TQ 2.4Ghz radio system. If you are looking to save a few $$, Traxxas also has a brushed version of the 1/16 E-Revo that comes with a AM radio. If you can afford the extra $80 or so, we recommend you make the jump to brushless and 2.4Ghz.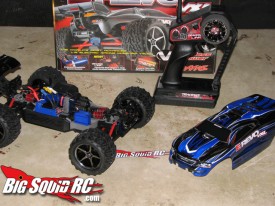 The 1/16 E-Revo, it's ready for experienced users as well as new bashers with the Traxxas Training mode that they have built into the ESC. The training mode lets you have all the fun at 50% power while you are getting used to the controls of your new vehicle. We applaud Traxxas for including this in all their new ESC's as it has proven a big help with new people interested in the hobby.
Out of the box we were hitting some awesome speeds! With the included NiMH Traxxas battery we were hitting 30mph with no problem. On a 2S lipo we were up to 34mph, and then we made the jump to 4s (we would like to point out that Traxxas says to keep it at 3S or less) and we had no problem hitting 50mph!
This truck was fast, and at those kinds of speeds, we are talking some serious bashing! They even include a extra gear if you are looking to achieve those super sonic speeds on 3S or running two NiMH packs in series.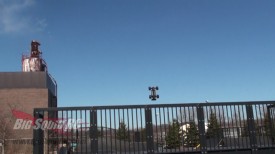 Ok, so it's fast, but can it fly? Yes, yes it can. This truck can take some serious abuse. We have driven any and every ramp we own, taken it to skate parks and launched it 20+ feet into the air over the back of quarter pipes, and very rarely do we need to do any repairs on the vehicle. The truck is very easy to control in the air, the weight is balanced well enough that you can make corrections easily before landing, and the stock truck holds up very well to the abuse we have been giving it over the last few months.
Another great advantage to being a Traxxas made vehicle is that tons of companies will jump on board the hop-ups train! There are a bunch of great companies making some awesome hop-up parts, from pure bling to even more durability! Traxxas themselves even has a good amount of support parts like the Aluminum Caps for your pivot balls, Steel Drive Shafts, and hard anodized shocks. So whatever your need beefing up your ride, you will be covered!
Like all the other current Traxxas vehicles, this one also comes with water-proof electronics, so snow, rain, and all the weather in-between will not get in the way of you getting in some drive time.
At the end of the day, you can look back and enjoy the fond memories you had with your 1/16 E-Revo. The huge air, the high speeds, and the hardcore bashing will all bring a smile.
Check out a video we made of some speed runs and back flip fun!
As with all of our stuff, if you see us at a bash, stop by and check out the vehicles we have with us. We may let you take a test drive, and at the very least get you some stickers!
SUMMARY
Time To Bash – 9.0/10 – Charge batteries and go! They even include one for you!
Workability – 8.0/10 – The truck is decent to work on. The small size does make for some tight fits, but nothing unworkable.
Car Show Rating – 8/10 -Out of the box it looks pretty good, but with some after market bling, you can hit a 10 pretty easy.
Bash-A-Bility – 9.5/10 – Can handle water, snow, huge air and high speeds! This truck is built for bashing!.
Big Squid Rating – 8.5/10 – Tentacles.. The 1/16 E-Revo is a blast to drive. From new people to the hobby all the way to expert bashers will really enjoy this vehicle.