Traxxas 1/16 Grave Digger Review
The Traxxas 1/16 Grave Digger Review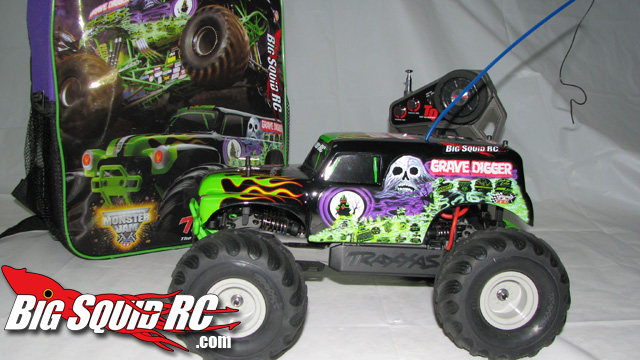 The moment we saw the Traxxas 1/16 Grave Digger, our gut reaction was that this might be pretty cool. A mini monster truck based on the 1/16 scale E-Revo platform would be fun to bash with. Then we read further and saw that it was shipping as a 2wd vehicle, and you could 'upgrade' to 4wd. This news was a bit upsetting. Well, we finally got some wheel time with the truck, our final thoughts? Keep reading to see how much we miss 4wd…
From: Traxxas
Direct Link: Traxxas 1/16 Grave Digger
Specs- –
Scale- 1/16th
Kit or RTR- RTR
Length- 13 inches (340mm)
Width- 10 inches (255mm)
Motor- Traxxas Titan 12T 550
Speedo- Waterproof XL 2.5
Radio- TQ AM Radio
Waterproof-yes, waterproof electronics.
Weight- 3 lbs (1.36 kg)
Street Price- $204 on Tower Hobbies
Primary Competition– There are not a lot of 1/16th scale monster trucks out there, but there is a lot of 1/16 scale vehicles if you include the rest of the Traxxas line. If you wanted to stretch your options, you could maybe toss in the HPI Flux XS as a 'large' small monster truck.
What's In The Box– The 1/16 Grave Digger comes RTR, with a 6-cell NiMH battery and wall charger. When is someone going to start putting a better charger with the RTRs? Also the TQ AM radio. You will need to supply AA's for the transmitter.
Build Quality– Out of the box, the build quality was good. Nothing was loose, or needed work before we ran.
Test Drivers– Brian, Wrench, Cubby, couple of area kids who were dying to try it out.
Test Venues– Office hall, parking lot, street, skate park, neighborhood culdesac and park.
Radio: 27MHz TQ AM. Really Traxxas? At this point, and with the amount of 2.4GHz radios being sold with other Traxxas vehicles, it can't really cost that much more than the AM now can it? 2.4 has become the standard over a year ago, please stop saving it for the 'upgrade'.
Suspension– Surprisingly not bad. When you look at it, you think it must really be bouncy because most vehicles raised up like this, that are this size are always bouncy, but even on larger jumps the suspension works well. The lack of foam in the tires is what makes the truck a little bouncy.
Tires– Good all around basher treads but the lack of foams (just like in the other Monster Jam 1/10th scale vehicles) leaves something to be desired. While foams would be an improvement, the lack there of really ads to the durability. The large soft tires take much of the harder impacts with the ground, curbs, and other vehicles, putting less stress on the overall vehicle. The tires act like a huge crumple zone long before the a-arms take any abuse. The extra height from the large tires even lets you run in the grass! Most of the other 1/16th scales would have issues with this, but the monster truck has little problems with it.
Power– There is a ton of power in this truck! The 12T 550 motor is more than enough power to put a smile on your face. It was almost too fast for the narrow hallway, and we headed outside before putting too many marks on the walls. 30 seconds of running in the parking lot, we picked up the truck and took it inside to install the wheelie bar. If you are going to buy the 1/16 Grave Digger, do yourself a favor, get the wheelie bar at the same time! It takes 5 minutes to install and will make your experience 10x better! With the wheelie bar installed, we were back in the parking lot and riding wheelies non stop. The truck has enough power to even lift the rear tires off and pop you up just on the wheelie bar. We were running a Traxxas 2s 2200 LiPo battery and had no problem hitting 23mph on the radar gun! If this was a 1/10th scale, you would think maybe 23mph is on the low end, but on a 1/16th scale monster truck it feels fast.
Looks– The 1/16th scale Grave Digger looks good. The green plastic parts help tie in the whole package. Wherever we took the truck, people recognized it. Kids and adults were interested, and would come over to ask about our pint sized Grave Digger.
Broken Parts– Nothing has broken, but our body and body posts are seriously beat up. It's easy to end up on your lid from a jump, or just flipping it from the pure power, and the thin body posts are just about ground off. The body mounts are cheap to order, but we have not seen a body available yet.
Price– Most likely because it's 2wd, the Traxxas 1/16 Grave Digger is one of the cheapest 1/16 Traxxas vehicles available. This is a good thing! Sure it's going to cost you to upgrade to 4wd (that all the other vehicles come with) but the truck is pretty fun as a 2wd, and 'good enough' for anyone getting into RC.
Best Mod Under $5– Save your money for the $15 wheelie bar! It will be much more enjoyable.
Final Thoughts– We were disappointed when we heard about the lack of 4wd, and the fact that we were being sold the parts as a upgrade when ALL the other 1/16th scale Traxxas vehicles are 4wd. Especially when it's a Monster Truck! Of all vehicles to remove the 4wd from. The truck flies good in the air, but you don't have a lot of control. If you do have a bad jump, you are not going to be able to do much to correct it. With 4wd, we could of been doing back flips and front flips. That all being said, the truck is plenty fun as a 2wd vehicle. It's fast, it's durable, and it looks good.
We ALWAYS make sure to take the backpack with us, even to the track. The looks we get are priceless.
Being waterproof is always a plus,but it's the expected standard now from Traxxas. If it wasn't waterproof we would be complaining for sure.
Watch for a follow up as we install the 4WD kit and give our opinions on the new truck.
---
As with all of our stuff, if you see us at a bash, stop by and check out the vehicles we have with us. We may let you take a test drive, and at the very least get you some stickers!
SUMMARY
Time To Bash – 9.0/10 -Charge and install batteries and go. As usual, the wall charger will be slow.
Workability – 8.0/10 – For the most part the truck is easy to work on, but the small screws and parts can be tough. There are some tight spaces, and a lot packed into this little truck.
Car Show Rating – 9.5/10 – Everywhere we go, the Grave Digger attracts attention. The green parts were a big help.
Bash-A-Bility – 10/10 – Nothing has broken. The soft tires take a LOT of the abuse. It's runs in the grass, can jump well, and is fast.
Fun Factor – 8.5/10 – It's a fun truck if you are looking to scale down your bashing. You can get some big air, it's got good speed. We are betting 4wd will be more fun.
Handling – 8.0/10 – Like most monster trucks you can roll it in the corners if your not careful. And without a wheelie bar, you will need a pretty calm trigger finger.
Power- 9.0/10 – For a 1/16th scale monster truck, the power is good. It's plenty fast for anyone getting into the hobby.
Value- 8.0/10 – It's priced better than most the other Traxxas 1/16 scale vehicles, but if you are going to upgrade to 4wd and a 2.4GHz radio you will be closer to $300 than $200.
Big Squid Rating – 8.75/10 – Tentacles.. Lots of power, very durable, and it's a monster truck! What else could you want?
Don't forget to check out the 1/16th Grave Digger Unboxing unbagging photos if you need some more pictures.