Traxxas 1/8 Scale Funny Car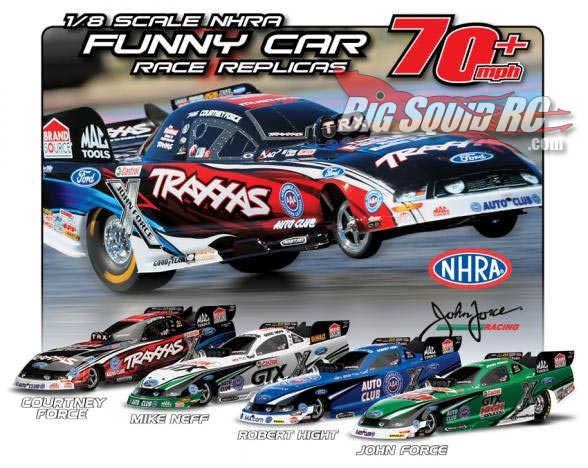 Ok.. lets try this again! As we tried to announce over the weekend, Traxxas is releasing a line of NHRA Funny Cars! If you remember back in January we scooped the possibility that Traxxas was working on a Drag Racing System. Well that rumor has come true!
You can see from the comparison shot next to the Traxxas 4-Tec that the 1/8th scale funny car is a big car. We like Big!
The funny car has a scale looking tube chassis, which we have to admit looks pretty darn cool! The vehicles getting the replica treatment are the Courtney Force, John Force, Mike Neff, and Robert Height.
Talking with Peter V. over the phone last weekend, he says Traxxas has gone through great lengths to really give the vehicle that funny car feeling. They are doing their best to simulate what it's like to run a funny car.
It's built to go fast and straight. He said the Timing system (DTS-1) is a laser system for accuracy and it is a separate package that you can purchase. Peter sounded really excited about the vehicle release, and stressed the 'feel' of the car should be awesome, from the speed to the burnouts! The timing system gets us pretty excited because in RC drag racing, the timing systems are EXPENSIVE! There just isn't a cheap alternative, and if Traxxas has done that, it would be awesome. Every street could become a mini drag strip!
The new motor is called the ET-3s and is again from Castle Creations.
The special TQi radio has a 3 way switch at the top to create different settings on the car to Burnout mode, staging and racing! This is pretty cool! If you have ever actually done RC drag Racing before you'll know it's tough to make your way to the line with all the power you have and actually stage up properly. These settings will make it feel like your almost changing gears so you can slowly work your way to the staging area.
The DST-1 system will be compatible with the TQi radio with iPhone docking base to report back speeds, reaction times and run times!
The official name: Traxxas Funny Car #6907 for those looking to place orders or pre-order.
We will post more information as it arrives. Right now all we have is the leaked ad that he didn't sound so happy about. More pictures and video should be out soon. Next time I'm going to call Keli, see if she's a little more friendly in the AM. 😉
Comments on… tell us what you think!
There are plenty more pictures over at the Traxxas site, as well as a few more details.