Traxxas and NASCAR Drivers on NASCAR Now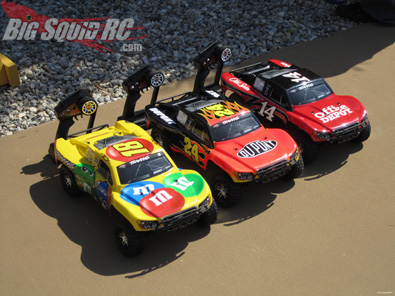 Wow! Traxxas again is doing an amazing job of getting the word out there about RC! Traxxas, along with Kyle Busch, Tony Stewart, and Jeff Gordon, were all on NASCAR Now on ESPN doing a little Slash racing! The trucks were all custom painted to look like the drivers vehicles, and they all look pretty good. Stewart went on to take the win in a 5 lap race. I wonder how many of these guys actually one RC vehicles.. I know a few do for sure.
Thank You Traxxas for all you are doing for the RC industry! Head over to the Traxxas website for more info and pictures.
Traxxas NASCAR Drivers gallery
Photos supplied by:Joe Faraoni/ESPN
UPDATE: Several people have written in to remind me that Stewart co-owns Custom Works which is a RC company that makes sprint cars, and other vehicles. I remember seeing some pics of him a few years back with him doing some RC.