Traxxas Bandit VXLXL Prototype?!

As you can guess, we get a LOT of email here at BSRC. Today I open the mail box, and start to sort through the first dozen or so, when I see one that says "Traxxas SPY Video!" That caught my attention real quick! We get our share of spy pics and videos, but rarely do we catch Traxxas in the act. So I open the mail, and it starts off like "My cousins, neighbor's brother works for Traxxas, and he was testing this outside, and we caught it on video!" You bet I clicked that link! He's calling it the Traxxas Bandit VXLXL! While I am pretty sure this probably didn't come out of the Traxxas R&D group, it IS a really impressive build! The beast halls! Man I'd like to get behind the wheel of it! I'll have to give my buddies a call at Traxxas and see if I can squeeze some more info out of them! 🙂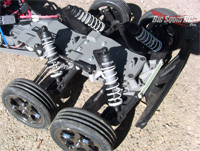 Man, that thing has basher written all over it! After checking out the pics and video, I was surprised it didn't come from Bill "Firesprink281" our main mechanic here BSRC HQ! I'll have to get him on this as his next project!
Thanks Jibberjabbs for sending in the pics and video, awesome build! If anyone else has anything similar they want to show off to fellow bashers, drop us a line, spy shots included!