Traxxas DR-1 Coaxial Dual-Rotor Heli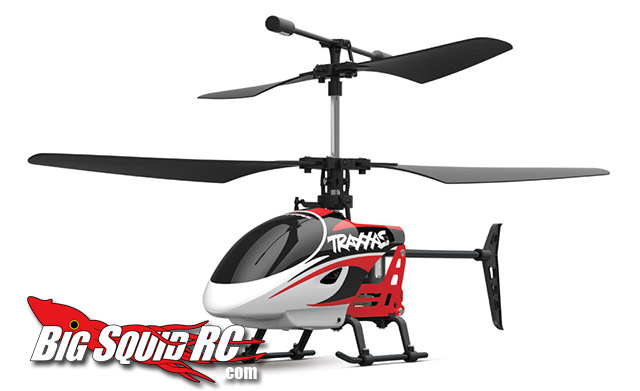 More air news from Traxxas? Besides the New Traxxas Quadcopter we mentioned, they also have the DR-1 Coaxial Dual-Rotor Heli. This time it will come with or without a radio, and prices are $60 or $85!
Update: Some details, pictures and specs
Official Specs:
• Master stable hovering in just seconds
• 2.4GHz Transmitter eliminates frequency conflicts
• LCD Transmitter display keeps you informed
• Easy, Normal-Mode and fast, Expert-Mode
• Customizable flight modes
• High-capacity LiPo battery
• Handy USB-powered charger
• Available in red and blue
• Anodized aluminum side frames, tail
boom, and landing skids
• Available genuine Traxxas accessories
• Backed by unparalleled Traxxas support
More Details:
Length: 8.9 Inches (225mm)
Width (main frame): 1.14 Inches (29mm)
Rotor Diameter: 8.7 Inches (220mm)
Blade Length: 4.1 Inches (104mm)
Weight: 2.4oz (67g)
Height (overall): 4.6 Inches (117mm)
Stabilization: Gyro
Motor (electric): N20 (2)
Radio System: 2.4GHz 4-channel multi-mode
Servo: Digital – 0.07sec/60° (2)
Chassis Structure/Material: Anodized aluminum main frame
Skill Level: 1
Included Accessories:
450mAh 1-Cell LiPo (3.7 volts) battery pack, USB-powered dual LiPo charger, spare rotor blade set,
Phillips screwdriver, and four Traxxas AAA alkaline batteries.
A Traxxas Helicopter and Quadcopter, what's next? Comments are ON! What do you guys think!?
Need more Traxxas News from Big Squid RC? Hit the link!