The Traxxas Drag Slash details are finally here, along with a video and a price! Traxxas has been teasing us for weeks now, and the wait is now over! In true Traxxas fashion, it's shipping right now! (Watch for our unboxing video here shortly) so call those dealers! Let's start to get into details we didn't know about yet.
Adjustable wheelie bar with 2 wheel size choices.
Length (with wheelie bar): 29.7 inches (754mm)
Length (body only): 22.6 inches (574mm)
Front Track: 9.3 inches (236mm)
Rear Track: 8 inches (205mm)
Width: 11 inches (279mm)
Weight: 5.23 lbs
Height: 7.7 inches (196mm)
Wheelbase (at ride-height): 12.9 inches (327mm)
Tire Diameter (front): 3.35 inches (85mm)
Tire Diameter (rear): 4.13 inches (105mm)
Tire Width (front): 1.04 inches (27mm)
Tire Width (rear): 2.25 inches (57mm)
The price is going to be $499.95
Traxxas Trans Brake!
Adjustable body posts to let you use all sorts of bodies, as well as get that clearance you may need on the rough street, or slam it to the ground for the smooth stuff. (Thank you!)
Front Foam bumper.
Adjustable 4mm steel turnbuckels.
Drag tuned shocks.
LCG Chassis.
They say it's truly built for the streets with a ultra low center of gravity. Check out this transparent shot!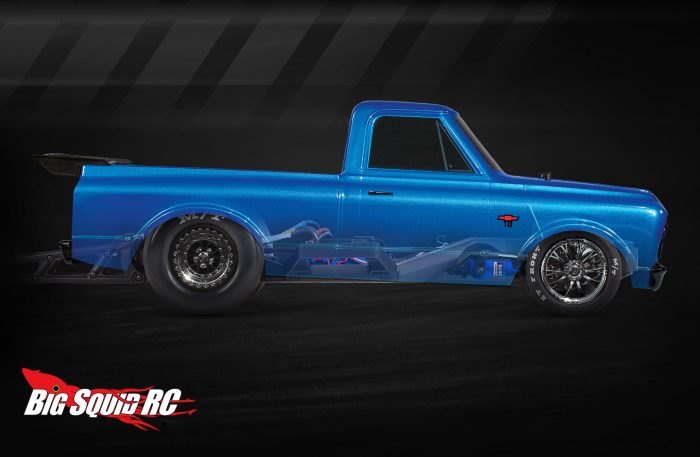 Speed Control: VXL-3s™ Electronic Speed Control
Motor (electric): Velineon® 3500Kv Motor (10-Turn)
Transmission: Pro-Series Magnum 272R
Overall Drive Ratio: 9.82:1
Check out the video below for some drag racing action!

Check out our unboxing video right here
To get more details on the Drag Slash jump over to the official Traxxas Website.
Get more Traxxas News right here on BigSquidRC.