Traxxas Ken Block/Dirt 3 Bundle from Gamestop!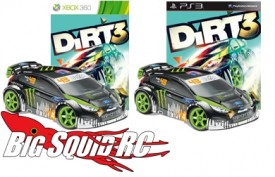 I'm a pretty big rally/gymkhana fan, so pre-ordering Dirt 3 was a given. However, Gamestop has the ultimate deal for video game fans, race fans, and RC fans! You can now order Dirt 3 for PS3 or XBOX360 for only $299…pause for dramatic effect…that includes the Traxxas Ken Block Gymkhana RTR! Hit the PS3 or XBOX360 links here or above to check out the deal!
UPDATE: We reported earlier that you could get an AMAZING deal on the KB 1/16 from Traxxas with a copy of Dirt 3. Well, looks like GameStop screwed up. Word from Traxxas themselves says GameStop has some info wrong. The car being sold is the 7308 BRUSHED Ken Block not the 7309 brushless one. Also, it does NOT come with the Traxxas 2.4GHZ but a TQ AM Radio!
This makes a LOT more sense for the price. Click through to see the REAL details of what you get in the box!

About the Traxxas Ken Block Gymkhana Fiesta RC Car:
MODEL 7308: Traxxas Ken Block Gymkhana Fiesta, Fully assembled, Ready-To-Race(r),
with TQ AM radio, Titan(r) 550 motor, XL-5 Electronic Speed Control, 7.2 volt NiMH
battery & charger, and ProGraphix(r) painted body.
*Officially licensed Ford Fiesta body design and Ken Block/Monster Energy graphics
*Officially licensed Volk Racing TE37 wheels (1.9″ diameter, 12mm hex)
*Unique green pushrods and toe links, exclusive to the Ken Block Gymkhana Fiesta
*Pre-glued, low-profile Gymkhana-compound slick tires molded in a specially
formulated rubber compound for authentic Gymkhana performance and handling
*Full-time 4WD
*Powerful Titan(r) 12-Turn 550 modified motor
*Includes Traxxas Power Cell battery pack and charger
*TQ AM Transmitter
*Waterproof electronics
*Digital High-Torque Waterproof Micro Steering Servo
*Rubber-sealed ball bearings
*Impact absorbing foam front bumper
*Race-winning, F1-inspired Revo(r) suspension technology and E-Revo integrated
chassis design, perfectly optimized for 1/16 scale
*Traxxas High-Current Connector
So everyone who just placed a order for the Brushless one thinking 'deal of the year' may want to re-evaluate.