Traxxas Mini Revo in Da House!
We got our Traxxas' Mini Revo , or 1/16 E-Revo for those wanting to be politically correct, in house, and ready to start taking abuse!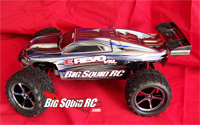 We'll get more pictures and details of the whole thing as we bash it! For now you'll have to just check out some new pictures! And yes, we are going to go 4S in this thing! Muhahahaha! I'll make sure to have the speed gun out and on it, hopefully before we break it!