Traxxas Mini Slash and Revo Production Pictures and Details!
Here are two pictures of the Traxxas 1/16 Mini Revo and Slayer that are production versions! These are not the mock ups that were at the iHobby show, but actually rolling/working vehicles show at the 1/18th scale nats!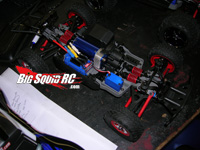 Price will be around $199 for brushed versions and $320 for brushless! Release date is looking like the end of March! This is the first time the full production units have been shown. Both come with dual battery compartments so you can double your run time via parallel connection or double your voltage when wired in series. Brushless speedo cell limits are 12 cell NiMH or 3S LiPO. The truck will be called the Mini Slash and not Slayer despite it's chassis lay-out. My guess is that with the amazing popularity of the Slash, you might as well ride that gravy train!
Both are very much exactly scaled down counterparts of their bigger brothers, tires are high quality rubber with soft inserts, the suspension is soft but fairly progressive, and the wheel base is about 1 inch longer than a Losi Mini LST!
You saw it here first people! Tell your friends!