Traxxas NASCAR Camping World Truck ?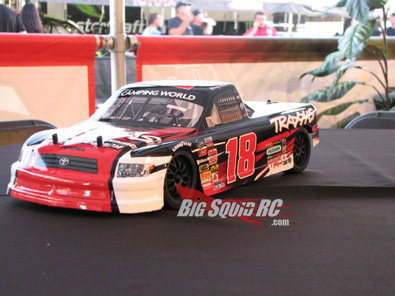 So we just got back from the Traxxas TORC series race. (report coming about that soon with pics) But there was some hubub about this Traxxas NASCAR Camping World Truck. Well, official word is that Traxxas is currently NOT planning on making this vehicle. It was a mock-up done to sort of show off and celebrate their crossover with Kyle Bush and the NASCAR series stuff. Under the body is just a Traxxas 4-TEC without a motor so it fit under the body. They then cut the chassis in half to extend it to get the wheels to line up right.
Traxxas did let us know that if there was enough of a positive reaction and the forums start buzzing and people are writing in, that they would consider maybe making it, but as of right now they have NO PLANS of making this truck.
Sorry to bust any bubbles, but start sending Traxxas emails, and let them know how you feel!