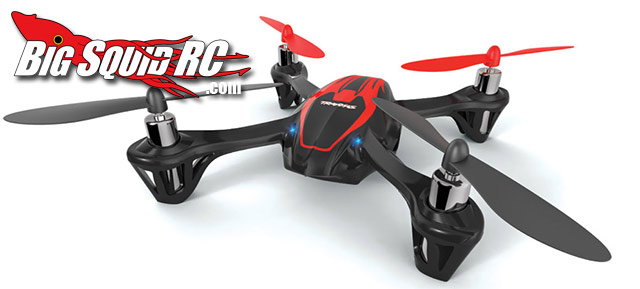 I bet you didn't see this coming! Traxxas is now getting into the air market! It's called the Traxxas QR-1 High Performance Quad-Rotor Helicopter! Street price is about $60 (WOW!) and comes without a radio. With Radio is just over $100. Another thing new for them. Since when is it not RTR? Wow, Traxxas quadcopter, we never would of guessed. More info as we get it in.
UPDATE: More info and more pictures!
We now have pictures of what will come with the RTF versions.
It has a 2.4Ghz 4-Channel Transmitter, two 3.7 240 mah packs, and a dual lipo charger.
There are blue LED's on the front so you can tell what direction you are flying in.
With the 6-Axis Stabilzation, you can even Flip and Roll it according to Traxxas in Expert Mode! Wowza!
Official specs:
• Quad-rotor thrust with digital 6-axis stabilization
• Quickly master stable hovering and flight in Normal mode
• Perform flips, snap rolls, and banking turns in Expert mode
• Customizable modes let you choose your own settings
• Two blue LEDs light the way
• Includes two high-capacity LiPo batteries
• USB-powered dual-battery charger
• 2.4GHz Transmitter eliminates frequency conflicts
• LCD transmitter display keeps you informed
• Available in red, blue, orange, and green
More details:
Length: 4.7 Inches (120mm) That's with the blades! without it's like 65mm.
Width: 4.7 Inches (120mm)
Rotor Diameter: 2.2 Inches (55mm)
Blade Circle: 5.8 Inches (147mm)
Weight: 1.16oz (33g)
Height (overall): 1.1 Inches (28mm)
Stabilization: Six-Axis
Radio System: 2.4GHz 4-channel multi-mode
Chassis Structure/Material: Molded composite main frame
Skill Level: 1
Included Accessories: Two 1-Cell 240mAh LiPo (3.7 volts) battery packs,USB-powered dual LiPo charger, spare rotor blade set, Phillips screwdriver, and four Traxxas AAA alkaline batteries.
Comments are ON! What do you guys think!?
Need more Traxxas News from Big Squid RC? Hit the link!