Traxxas QR-1 Quad-Rotor Review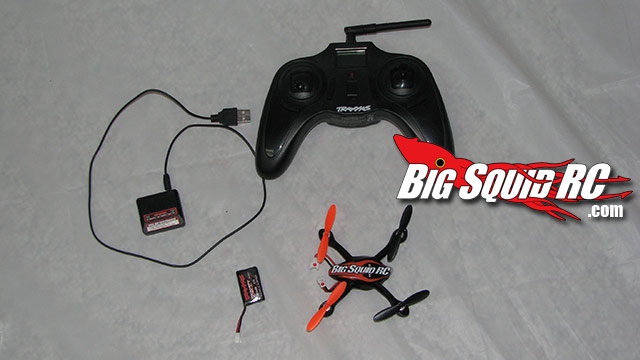 Adding yet another quad to the quadcopter craze, we take a look at the Traxxas QR-1 Quad-Rotor. It seems like we have been flying quads more than driving vehicles lately, but it has been a nice change. So how does the first flyer from Traxxas hold up against the other recent releases? Keep reading to find out..

From: Traxxas
Direct Link: Traxxas QR-1 Quad-Rotor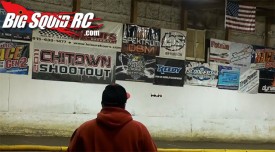 Specs-
Kit or RTF : RTF
Length: 4.7 in (120mm) Including Blades
Width: 4.7 in (120mm) Including Blades
Height: 1.1 in (28 mm)
Weight with Battery: 1.16 oz (33 g)
Battery: 2x 3.7 240mah Lipo Included (yes you get two batteries)
Charger: Dual USB Charger included
price: $85 RTF, $60 without transmitter.
What's in the Box: We reviewed the RTF version of the QR-1, and in the box comes the Quad, Transmitter, 2 1s lipo battries, a dual usb charger, manual, AAA's for the transmitter, and a extra set of blades. It comes with everything you need.
Build Quality: Out of the box, the overall build quality seemed good. There were no physical issues.
Test Drivers: Brian, Wrench (Bill), 3DBill
Test Venues: Office, Indoors at Hobby Town USA – Orland Park, IL, Indoors at Leisure Hours Raceway, outside.
Set-up Notes: There were a couple things to note early on right out of the box. The positive and negative on the battery and quad are reversed from all the other micro quads we have been flying. The plug end is the same, so you would think that the terminals would be a 'standard' and have the polarity the same. It is not, so pay attention if you have several of these size batteries laying around, or if you think you are going to use one of the other chargers on this battery. You could easily cause some damage to the quad, battery or worse. Not sure who to thank for that one, but there was a 'oh that could of been bad' scenario.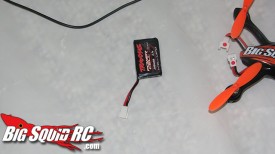 Speaking of backwards, the other 'standard' Traxxas decided to not go with was 'bright color blades towards the front'. Even on our larger quads, we have the brighter colors in front so you know what way you are going. Yes the QR-1 does have LED's on the front, but from below, or far away, you want to glance and tell quickly. If all the other quads didn't already come this way, it might not be a big deal, but when you get used to seeing the bright colors in front, the Traxxas quad will cause you to use your brain a little more.
Lastly, we had some flying issues out of the box. We have had a total of 3 Traxxas quads in our hands. The first one was Evan's personal quad. It had binding issues, and was loosing bind mid flight. Tried all sorts of stuff with Tech support, and it was being sent back for repair/replacement. The second one was a bit unstable and was being really difficult to fly. 3DBill spent some time trying to make it right, but never got it dialed how he wanted. The 3rd one also had stability issues out of the box, but only during rotation. Whenever you would try to rotate in a solid hover, it would dip the rear/opposite blade causing the quad to spiral and fall making it very difficult to fly. Resetting the gyro stabilization did fix this issue. Traxxas had a separate sheet of paper from the manual that described how to do this. You need to move the left stick (throttle) to the lower right corner, then move the aileron stick back and forth until the led lights blink. Once we did this, the QR-1 flew MUCH better. So if you have having issues with the stability or rotating of your Traxxas Quad, make sure to reset the gyro stuff!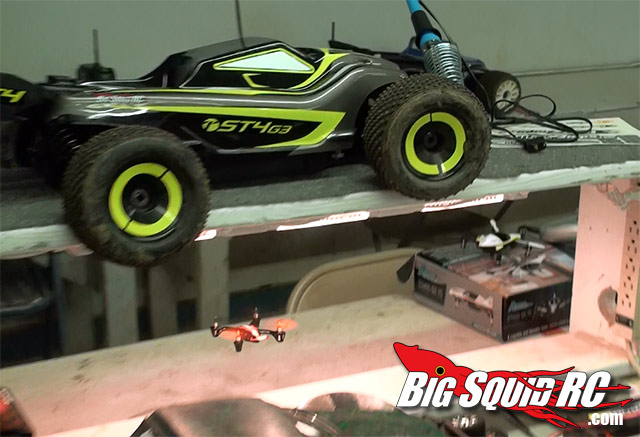 Stability: The QR-1 isn't the most stable of the micro-quads out there, but it is pretty decent. (Once we got it all reset) If you haven't been flying any other quads right before or after, you would think it's just fine, and it's good enough if this is your only quad. We had the luxury of flying all the new mini's back to back to back, and it was noticeably not as stable as the best one. It seems like every time we turn it on to fly, we need to adjust the trims. This could be from the battery not being in the exact same position every time since it just slides in, but we have tried to make sure to reproduce the positioning, and still need to adjust the trims. Not a huge deal, but something to keep in mind.
Flying: We have a ton of hours on the Traxxas QR-1 and have enjoyed flying it often. Maybe because it's slightly smaller than the others, or maybe because it's got the Traxxas name/warranty behind it, but we have been very brave when flying it around. As Cubby would say, 'we have been flying it like we stole it', and that's a good thing. We have been doing rolls and flips, trying crazy banked turns, flying through home-made obstacle courses, and having a blast doing it. It's been used without issue indoors and out. For the first flight or two we flew in normal mode, but after that we have been in expert mode on every flight. You set expert mode by pressing IN the right stick and releases it. The transmitter led will flash (and stay flashing.. a little annoying) and it will also say expert mode on the LCD screen.
Radio: The included transmitter is good. The controller feels more like a console game controller than a flight controller, but this is a good thing. It's about time we start getting more ergonomic controllers. The LCD screen can give you settings information, and is easy to make adjustments with.
Durability: We have bashed and crashed into everything and anything. In the video, you'll see us slamming into chairs, walls, the ground.. and we have had no major damage yet. The blades are a little nicked, but that's about it. We are glad to see it's very durable.
Misc Notes: It's the smallest micro-quad at the moment, but it's not the lightest. It weights as much or more then the others, but has a nice solid feel to it.
We REALLY like having two batteries, and being able to charge them both at once is a plus. It takes about an hour for a complete charge with the included USB charger, but when you haven't had enough fun, being able to hot-swap for the second battery is great.
There has been a LOT of talk about the Traxxas QR-1 being a re-branded quad from another company. Traxxas claims that they have put their own 'Traxxas Touch' into this one, and that it feels different. We have yet to fly the other one, but will update you as soon as we get our hands on one.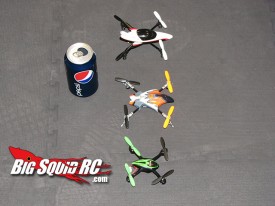 Best Mod Under $5:
For free you can swap the front and rear props. Remember they are matched pairs, and you will need to swap them across. So the front left, with the rear right. Then front right, with rear left. That will make things a little easier if you go to fly some other quad. If you are brave enough you could also swap the battery and quad connectors, but we'd probably leave these alone, and just make a mental note that it's not standard.
Overall: Except for our issues out of the box, the Traxxas QR-1 has been fun to fly. Their replacement warranty is a nice touch, as it basically says you can send in a QR-1 quad in ANY condition, and they will replace it for 1/2 the retail cost. I have a feeling we may need to use that at some point in time! The manual is well done, and even gives some flying tips.
If you are a Traxxas fan, and you are looking to make the jump to a quad, the QR-1 is a good choice.
Video coming soon!
---
As with all of our stuff, if you see us at a bash, stop by and check out the vehicles we have with us. We may let you take a test drive, and at the very least get you some stickers!
SUMMARY
Time To Bash – 8.0/10 – USB Charging isn't quick, and we had some stability issues till we reset the gyro.
Workability – 9.0/10 – There isn't much you can tough, but if you do need to fix it, it shouldn't be tough.
Car Show Rating – 8.5/10 – The LED lights are a nice touch, the paint job is very 'Traxxas'
Bash-A-Bility – 10/10 – Unless it's a blade, we don't see breaking this thing any time soon.
Fun Factor – 9.0/10 – We have been flipping, rolling, and bashing the QR-1. It's been a blast trying some crazy stuff with it.
Handling – 8.5/10 – It's not the most stable on the market, but it's still good and maneuverable.
Value- 9.0/10 – $85 is a good price for the RTF.
Big Squid Rating – 8.8/10 – Tentacles.. It's durable, it fly's well and rolls and flips without a problem. It's backed by Traxxas, there is not much more you could ask for.