Traxxas Rc at the 2013 Traxxas TORC Series, Joliet Illinois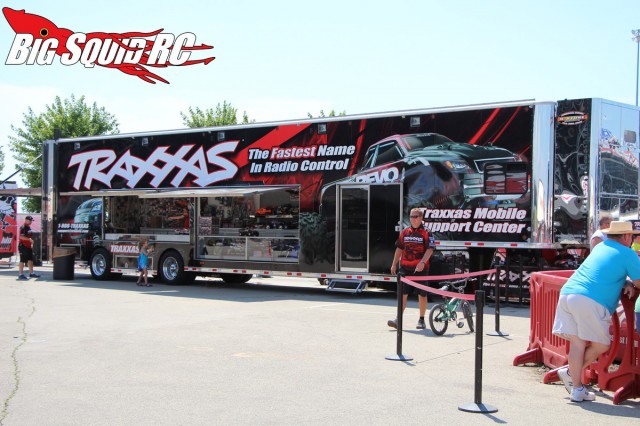 Last weekend the Traxxas TORC Series once again rolled through Joliet Illinois. To many people that ment some good racing was in town, but to us rc'ers we were more interested in seeing all the rc gear that Traxxas makes.
Traxxas had multiple 18 wheelers, some dedicated to their full scale racing effort, others to the rc side of things. Their Mobile Support Center contained every car/truck that they sell, plus all the replacement parts to back them up. Traxxas also had a tent area set up with all their rc cars on display making it easy to pick them up and check them out.
Traxxas also had lots of demonstrations going on. All day long they were putting on a big air demo right near the entrance gate, and for people who had never driven a hobby grade rc truck before they had their "Traxxas Try Me" track. On the try me track you could donate a dollar to St Judes and experience driving a Traxxas truck first hand. Later, during the night show, Traxxas put on a big air demo on the full scale track in front of a packed crowd of race enthusiasts.
Big thanks need to go out to the Jenkins brothers and everyone at Traxxas for what they do to promote the rc hobby. The TORC race in Joliet was a great example of what they do to spread word on how cool rc'ing is to the mainstream. Hit up THIS LINK to view the TORC series schedule and see when it's coming to your neck of the woods.
Looking for more Traxxas news? Check out THIS LINK right here on BigSquidRC.